Kaiser Appliance Free Delivery | How It Works
Place Your Order

Once your order has been placed, you'll receive a confirmation SMS advising you of your delivery date, with the option to re-schedule if needed.

Stay In The Loop

The day before your delivery you will receive a notification advising you of your 3-hour delivery window, along with your tracking reference.

On The Day

Our specialist team will contact you 60 minuites before they arrive to make sure you're at home and ready to receive your applainces.
2-Man White Glove Large Appliance Delivery Service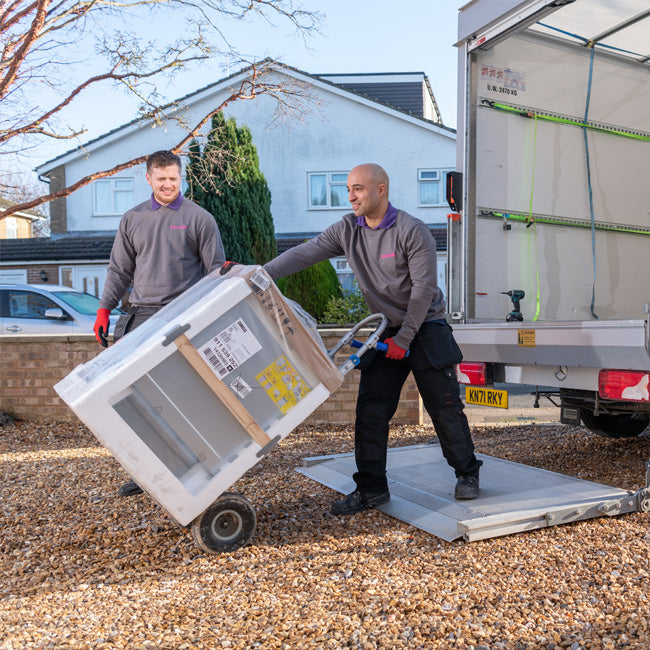 Large Appliance Deliveries | 2-5 Days
Range Cookers, Ovens, Large Cooker Hoods, Fridges, Dishwashers, Wine Coolers
Our large appliances will be delivered by our specialist logistic partners, Furdeco. Furdeco excels in offering a white-glove service. Delivering large, heavy and bulky appliances, free of charge, across the UK.
You'll receive several SMS notifications throughout your delivery process, updating you along the way with plenty of options to reschedule if needed.
Their large fleet of vehicles means your delivery is always on time, allowing us to offer a 2-5 day delivery window. Their fully-trained team are experts in delivering large appliances, meaning you don't have to worry about scuffs and dents on your walls
Small Appliance Delivery Service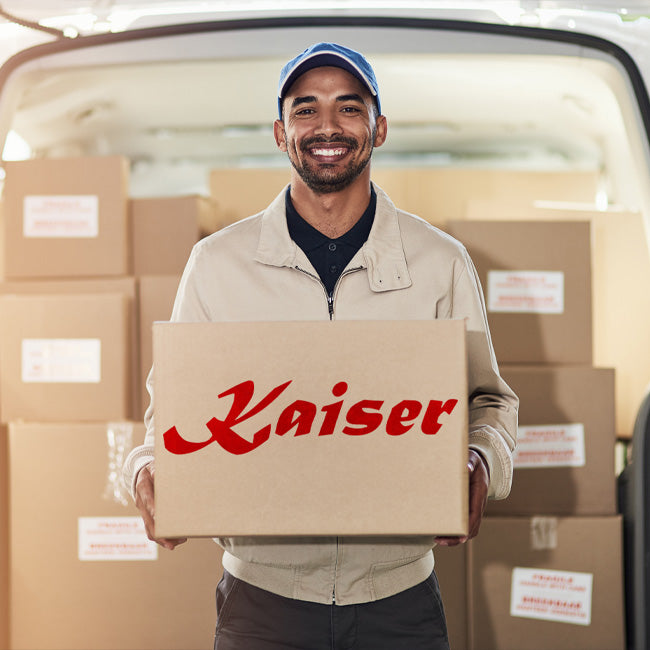 Small Appliance Deliveries | 1-3 Days
Microwaves, Hobs & Small Cooker Hoods

For smaller appliances, we've partnered with UPS. As soon as your order is dispatched, you'll receive the tracking information directly from UPS via email or SMS.
This way, you'll stay informed about the progress of your delivery and know exactly when to expect it at your doorstep.
Our delivery process is designed for efficiency, allowing for a prompt 1-3 working day delivery timeframe to all UK mainland destinations.
Make Sure To Check Your Order Details!
It is your responsiblity to ensure your details are correct when placing your order. We need your email address & phone number to arrange your delivery and ensure you are kept informed of the progress of your order. Please check your order confirmation carefully and let us know immediately of any issues.

We will always aim to deliver within the above mentioned times, however, unforseen issues (such as bad weather, vehicle breakdowns etc) can affect shipments & therefore we are unable to guarantee a precise delivery date.

Please ensure there is a person at your nominated delivery address who can accept delivery of your Products.
Frequently Asked Questions
Are there any hidden delivery fees or costs?

None, whatsoever. All deliveries, big or small, are completly free of charge for Mainland UK customers. What you see is what you pay with no hidden delivery fees, costs or surcharges .
Do I need to be at home when the applaince is delivered?

Yes. You will be notified of your delivery window and must make sure you or an adult is there to sign for the applaince.
What should I do once the appliance has been delivered?

All goods should be inspected as soon as they are delivered and any damage reported to the carrier by writing on the docket. It is important that you contact us as soon as possible to notify us of any defects or damages to your parcel.
What if I want to change my order?

Please make sure to contact us directly for any changes required on your order. we will do our best to facilitate where we can.
Can I change my delivery date?

Yes, once your order has been placed you will receive a notification email with the options to reschedule your delivery. If you are having trouble rescheduling your delivery, please contact us directly and we will endeavour to help.
Need more help? | Get in touch
If you have any questions regarding any of the above delivery services, please do get in contact with our friendly & knowledgeable Customer Service Team. You will also find more detailed information under our full Policy Pages.