SKU: EH 6306 & EH 6307 Black
Regular price
£2,098.00
Sale price
£1,829.00
Unit price
per
Sale
Sold out
This is our Grand Chef built-in oven & combi microwave oven bundle in black. The perfect combination for modern, multi-functional cooking appliances for your kitchen. Our Grand Chef collection features new technologies & features making them most suitable for modern kitchens.
With easy-to-use controls, up-to-date designs, and core colour options to enhance your love of your home. Enjoy spending time cooking in your kitchen with the Kaiser Grand Chef collection.
Single Oven dimensions = H x 59.4cm, W x 59.4cm, D x 54.3cm
Compact Oven dimensions; H x 45cm, W x 59.4cm, D x 46.5cm
EH 6306 RS - Grand Chef Single Oven product details
EH 6307 RS - Grand Chef Compact Oven product details
Single Oven
Built-in single electric oven with a 69-litre capacity
Ultra-modern black & stainless steel finish
Intelligent System digital controls for timer-controlled operation or switch-off
15 operating modes
Double infrared grill
Fan-assisted cooking, for even distribution of heat in the cavity
Air fryer tray & cooking function - no need for a separate appliance!
Temperature probe - cook to the required core temperature of your dish for the perfect result, every time
Easy-clean enamel interior
Removable stainless steel shelves & support rails - can be cleaned in the dishwasher
Dimensions (cm) = H x 59.4, W x 59.4, D x 54.3
The Kaiser Grand Chef EH 6306 RS is a modern black & stainless steel, technologically advanced electric oven. The perfect choice if you want an oven that can do it all.

The oven offers a total of 15 cooking modes. This allows you to cook your food in a variety of ways, for the most perfectly cooked meal, every time. But, that doesn't mean it has to be complicated - our Intelligent System digital controls makes choosing the right cooking method as simple as a touch of a button. You can also set the timer to pre-program the operation of your oven or use the basic timer to turn off the oven after a set cooking time.

This oven includes a double infrared grill, a food probe temperature sensor, and a fan-assisted cavity. However, our favourite function, and the one that makes this oven stand out is surely the built-in air fryer cooking mode. This completely removes the need of having a stand-alone air fryer appliance on your kitchen counter top. Simply use the included air fryer tray, select the air fryer cooking function and get all the benefits of healthier and juicier cooking straight from your oven. Absolute perfection!
Compact Combi Oven
Black stainless steel finish with anti-touch technology, reducing smudges and fingerprint marks
Multi-functional combi microwave oven, with 22 operating modes
Intelligent System controls for precise cooking, pre-heating and temperature control
Fan-assisted oven cavity (1,500w maximum power) guarantees evenly circulation and faster cooking
Microwave (1,000w maximum power)
Quartz grill (1,650w maximum power)
Parental control child lock for peace of mind and safety
The circulation system allows the combi microwave to be installed in kitchen units
Memory functions allow you to save your most-used settings and access them quickly
Dimensions (cm) = H x 45, W x 59.4, D x 46.5
The Kaiser Grand Chef EH 6307 RS is a modern electric combi microwave oven & grill. This is our black stainless steel version of this appliance, and the perfect match for our Grand Chef Air Fryer Oven. Released as a new product for the UK market for autumn 2022, which means you can be one of the first to get your hands on this fantastic new appliance!

With 22 different operating modes, this combi oven gives you an unprecedented amount of flexibility and ease when it comes to mealtimes. Selecting the best cooking option is made simple with our easy to use Intelligent System touch control panel. And, the digital display clearly shows your chosen options and the timer.

Choose between the microwave (offering a 1,000w maximum power), the quartz grill (1,650w power), or the fan-assisted oven (1,500w power) for the best results when cooking your meals. And accurately control the temperature of the cavity in increments of 5°C at the touch of a button. There is a range of 90°C to 180°C which allows you perfect control of this multi-functional oven.

With a modern circulation system, this appliance is designed to be safely and easily installed into any kitchen unit. And is a standard single oven sized width to allow for perfect placement above your standard single oven to maximise cooking space in your kitchen.

The appliance is finished with black glass & a sleek black stainless steel with an anti-touch effect. This means no smudges or fingerprint marks, so really easy to keep clean. This new combi microwave oven will be an excellent addition to your modern kitchen.
View full details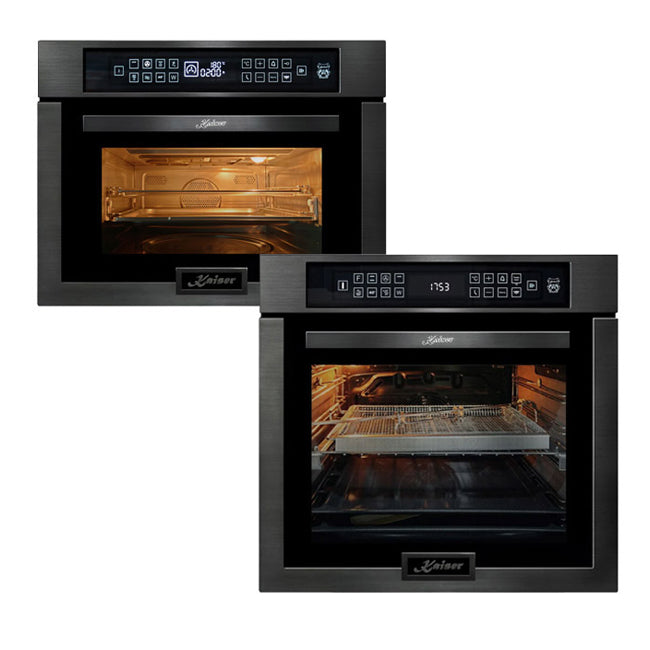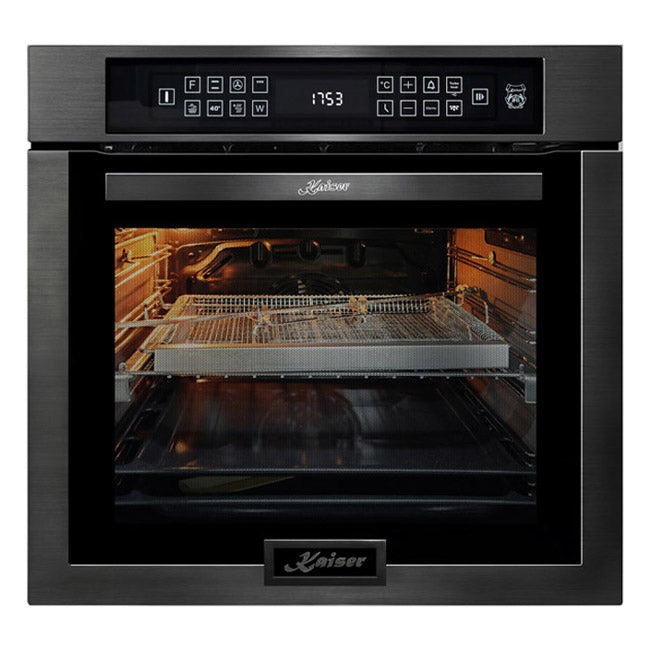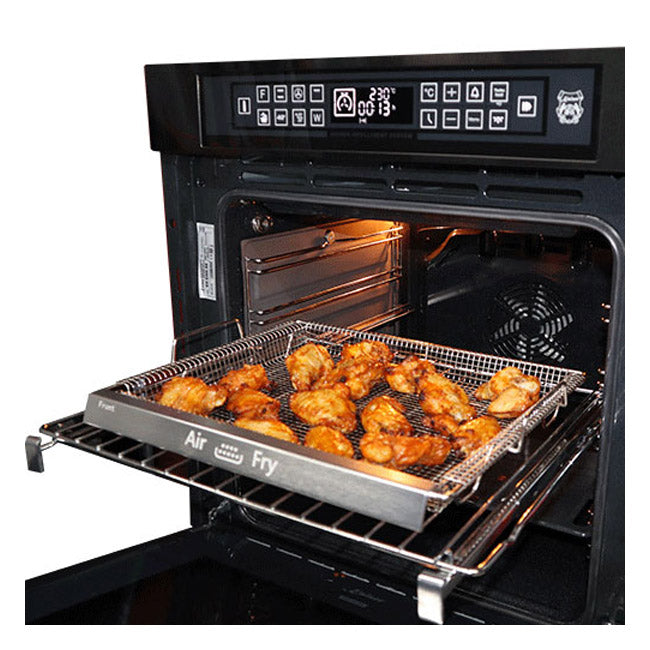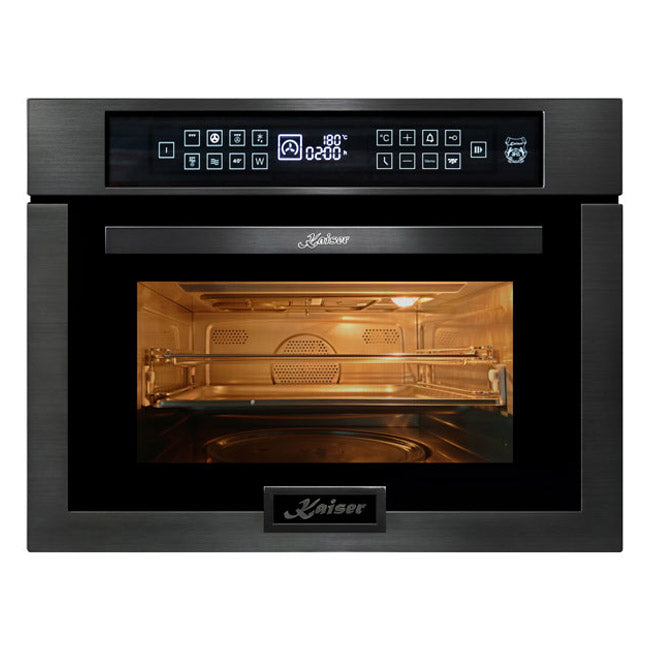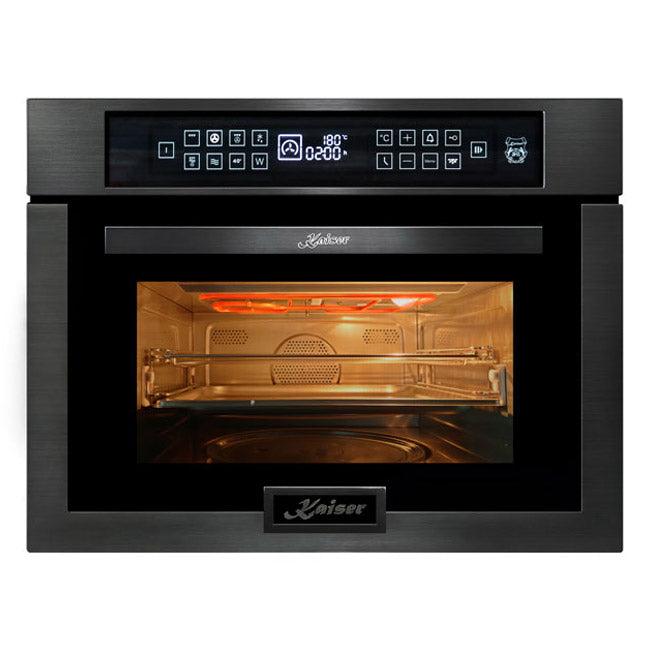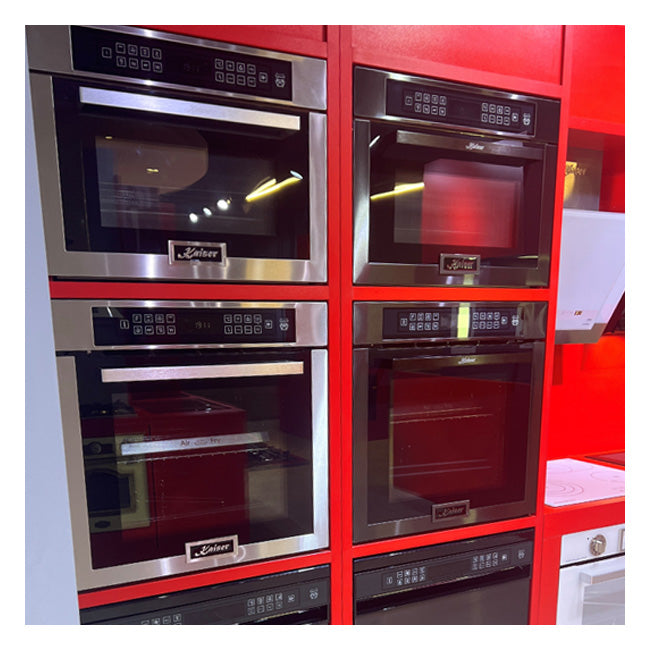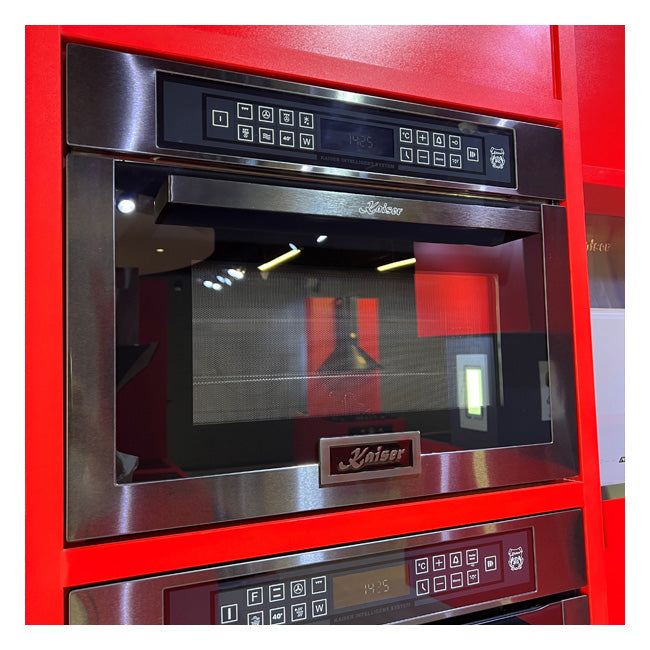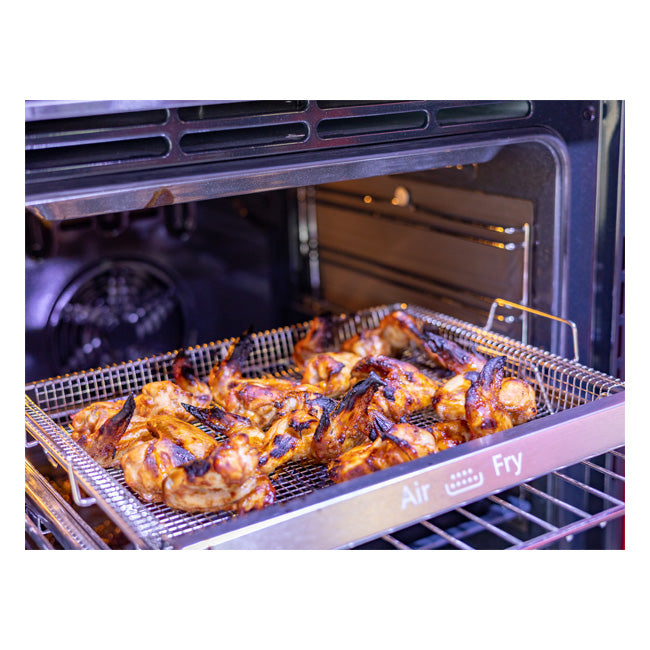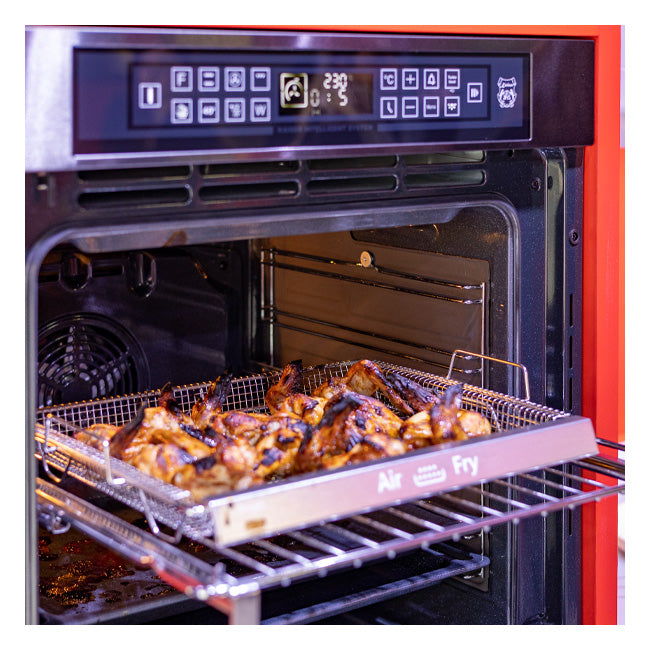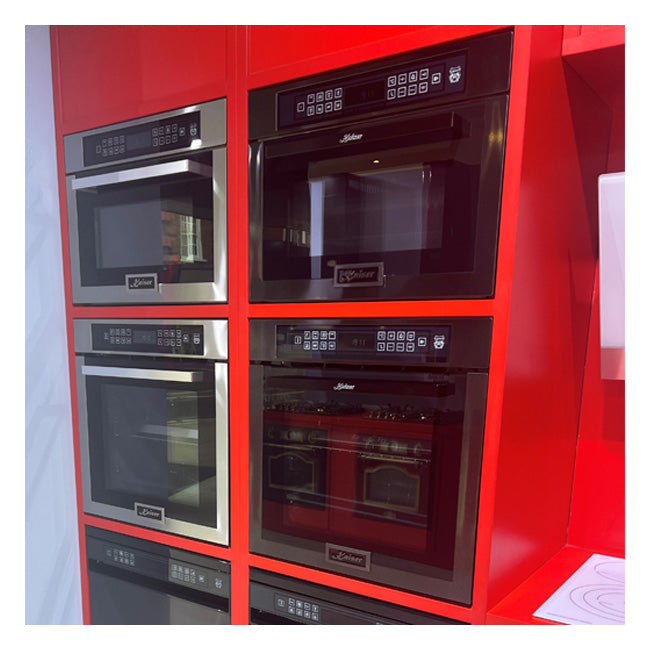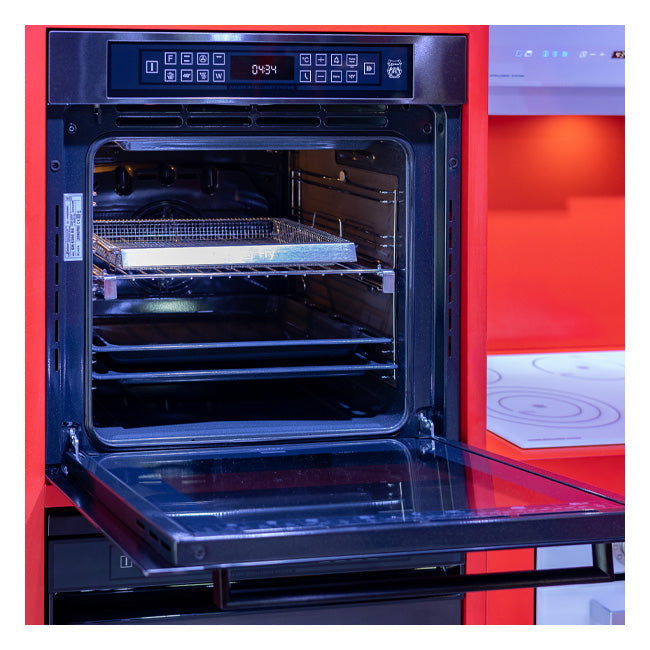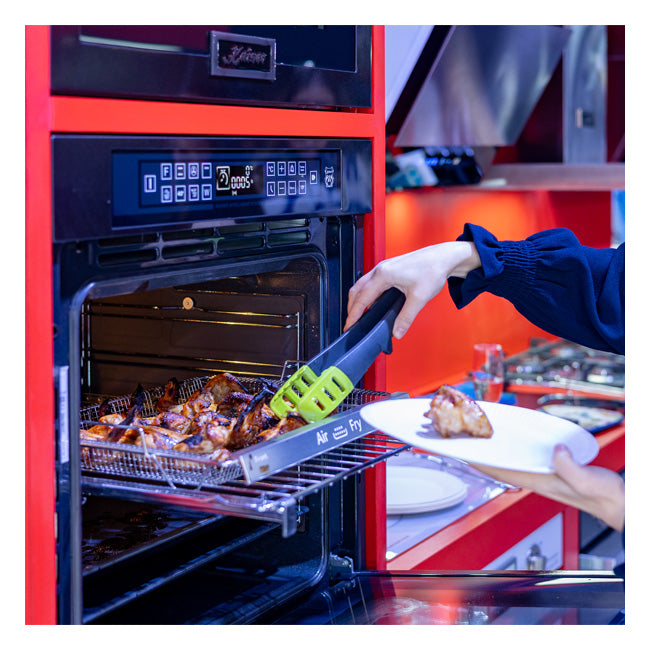 FREE SHIPPING

We offer a free delivery service on all appliances delivered in the UK.

30 DAY RETURNS

Hassle-free retuns if you are not 100% happy with your new appliance.

2 YEAR WARRANTY

Have complete peace of mind, with a 2 year warranty on all Kaiser appliances.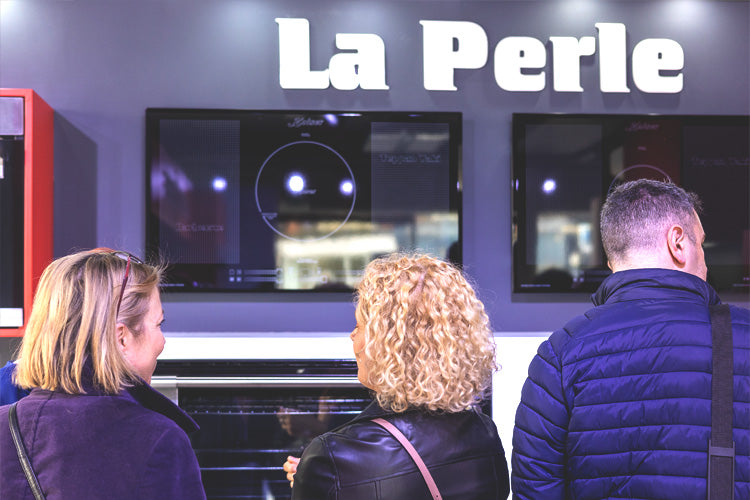 Virtual Showroom Appointments
Want to see our products live but can't make it to London? Book a free video call with our specialists.
We'll show you in detail any appliances you're interested in, answer any questions you may have, and provide expert advice and guidance.
Book Appointment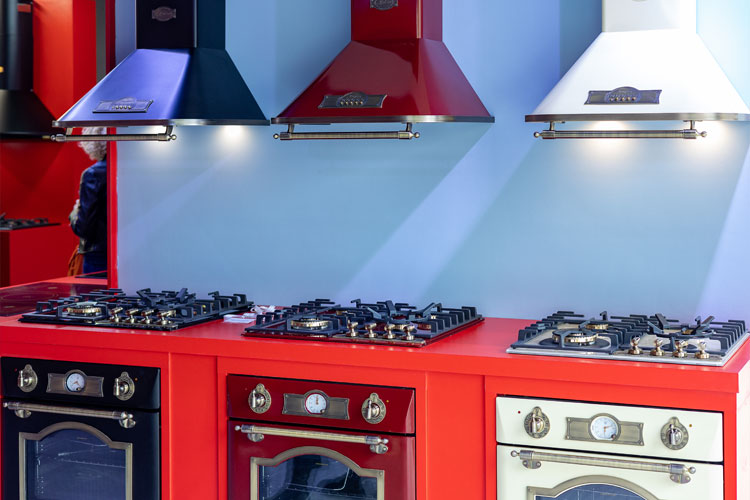 Save up to 13%
Supercharge Your Savings with Our Premium Kitchen Appliance Bundles! Upgrade your kitchen while saving up to 13% with our exclusive bundles. Whether you're eyeing a sleek combination of ovens, cooker hoods, hobs, dishwashers, and fridges from our thoughtfully crafted collections or want to curate your own set, we've got you covered. Unleash your inner chef and design the kitchen of your dreams while enjoying unbeatable discounts
Explore Bundles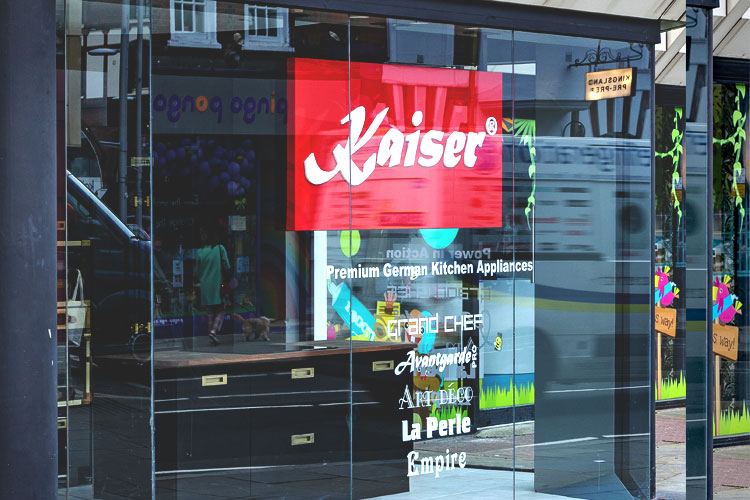 Visit Our London Showroom
We are happy to announce the opening of our new London Showroom, situated on Kings Road in Chelsea. Inside you will find an extensive collection, showcasing Kaiser's top appliances, spanning a massive selection of ranges, colours and designs.
Opening Times
German Design Award Winners