SKU: HC 93691 IS
Regular price
Sale price
£2,899.00
Unit price
per
Sale
Sold out
Electric Oven:

Matt Black Enamel Finish with Anti Touch Effect
Electronic timer
Circulation system (fan assisted/powered)
Double infrared grill
Self-clean function
Removable and machine-washable support rails
XXL Oven - 115 litre capacity
Dimensions H × W × D (cm): 90 × 90 × 60
Induction Hob:

Induction ceramic glass hob with free heating zones
5 cooking zones
POWER SLIDE power control & full touch electronic controls
Child lock
Residual heat indicator
High-speed heating power
Timer for all heating zones
Easy to clean
The Kaiser Avantgarde Pro HC 93691 IS is a perfect choice for a family-sized range cooker. If you've got the luxury of a larger kitchen, then it's likely that the range cooker will be a centre-piece and a statement item within your home. You want something that is aesthetically magnificent, but also can perform to the highest standards - this is where Kaiser truly specialises.

This fully electric-powered, induction top range cooker sits in our Avantgarde Pro product range. This collection of products is renowned for being packed with modern performance features, but never lacking in the strong Kaiser style. With a choice of core colours, this is our anthracite black version of this induction range cooker. Perfect for modern-day living & styles of kitchen.

Starting with the cooktop - you have a choice of 5 large cooking zones, so plenty of space for pots & pans to boil or fry. These cooking zones feature FREE ZONE technology, which means that the cooktop will detect where pans are placed and only heat the convenient areas required for maximum performance and energy efficiency. POWER SLIDE controls that are really easy to use to set the heat to the desired temperature for perfect results when cooking for your family or friends.

The oven has an immense 115-litre capacity. This is a huge volume of space for cooking large meals - think how easy Sunday lunch or Christmas dinner can be with all this space available! Fan-assisted technology is used for an even distribution of heat throughout this cavity, and the temperature is easy to control with our sturdy front-mounted control knobs. You can also set a timer to alert you when your cooking time is complete. This is situated next to the digital clock.

Finally, we have the dish drawer at the bottom of the appliance. This can be used for storing cooking pots or pans and has roller guides to make it easy to access the contents.

This induction range cooker really does have everything you need for a premium quality, functional & beautiful modern appliance that will bring delight to your time in the kitchen.

Full Description
INDUCTION HOB

FREE ZONE

Induction ceramic glass hob with free heating zones, which allows you to cook in any convenient area.

Rectangular shaped induction coils
Number, shape and size of the cooking utensils are not limited
Complete freedom of movement for the utensils on the heating field
Activation of the heating zone only under the utensils
High speed heating power
Keep warm heating functionality
Timer / minute counter for each of the four heating zones
Safety Guard automatic shutdown technology
Residual heat indicators
Full touch electronic control
POWER SLIDE power control
Child lock
Ceramic hobs

Induction heating elements provide powerful heat and ensure the quickest start facility. The ultimate temperature can be achieved incredibly quickly which results in time and energy saving. This capacity makes the high quality ceramic glass hobs similar to gas cookers. The hobs feature an elegant design which adds a sophisticated style to your kitchen. Ceramic hobs are easy-to-operate and easy-to-clean. The heating elements are controled by means of non-stage controls.

Residual heat indicator

All the electric hobs by Kaiser are equipped with residual heat indicators ensuring users safety. The LED is lit until the temperatue of the corresponding heating zone drops below 60°C. Switched off heating zones can be used for warming up dishes which ensures energy saving.

Electronic precise simmer control

The system provides automatic lowering of the temperature according to your selection. First, the cooking zone is heated-up and then switches off automatically to preserve the temperature at your preselected level.

ELECTRIC OVEN

Control

The electronic control Intelligent System makes the operation easy and effortless. The working time will be indicated on the digital display.

Electronic programmer Intelligent System
Electronic sensor control
Digital Display
Electronic timer

it's a short-term timer with an audible signal. It can be used to set up the working time for the oven. You can select the appropriate time to begin and end the cooking mode.

Circulation system

This ensures permanent cooling-up of the oven interior and makes possible to build-in the appliances into kitchen furniture.

Infrared grill

The infared grill is ideally suited if you prefer to cook fish, steaks or toast in the oven. If you like crisped outside, slightly open the oven door or use the ventilator to achieve better results.

Hot air system

The hot air system is a convenient, modern function. It consists of ring radiators and high-efficiency ventilators and provides even distribution of hot air throughout the oven cavity. The oven temperatures can be set to 50° – 280°C which is ideally suited for baking cakes and biscuits. Fan-assisted cooking reduces cooking time, so is both time and energy saving. This system ensures a substantially cleaner oven, prevents fat and juice from draining and ultimately provides better tasting food.

Easy clean – Antiallergical, environmentally friendly enamel

The interior of the oven is coated with an easy clean enamel. The enamel by Kaiser has the following characteristics:

Antiallergic
Easy to care pyrolytic cleaning
Antibacterial
Hygienic
Durable coating
Environmentally Friendly
Self-clean function

This function is applied to fast cleaning an oven. Function of fast cleaving combines in itself functions of catalytic and pyrolytic cleaning. The temperature of an oven rises up to 250 °C and will be supported during 1 hour. The cytalytic enamel oven inserts by Kaiser are extremely practical.

Easy fit shelf support rails

The shelf support rails are made of stainless steel. You can pull out baking trays and wire shelves without any damage to the enamel. The side rails can be easily dismantled which ensures convenient cleaning of the oven cavity. The shelf support rails can be washed by hand or simply put in the dishwasher for convenient cleaning.

Dish drawer on roller guides

Thanks to roller guides, the dish drawer can be easily pulled out. It is very practical and spacious enough to accommodate larger pans.
Specification
| | |
| --- | --- |
| Product details | |
| Finishing | Anthracite / Stainless steel INOX with Anti-touch effect |
| Oven type | Multi 8 Multifunctional electric oven (top and bottom heat, hot air system, infrared grill – 8 operating modes) |
| Hob type | Electro |
| Hob top | Ceramic glass |
| Energy efficiency class | A |
| Operation | Electronic sensor-controlled programmer Intelligent System with rotary knobs |
| Control panel | Black |
| Control knobs | Ergonomical rotary INOX knob |
| Door handle | Metal / INOX |
| Number of Programs | 8 |
| Lighting | yes |
| Type of lighting | 2 × Lamp |
| Indicator lights | yes |
| | |
| Hob | |
| Parboil Electronics | yes |
| Cooking zone control | Slider Touch Control |
| Cooking zones | 5 QuickHeat Induction zones, among them2 × 2 flexible FREE-ZONE1 circle zone, all with Power function |
| Front left | 21,0 / 19,0 cm – 1,8 (2,1 Power function) kW |
| Front right | 21,0 / 19,0 cm – 1,8 (2,1 Power function) kW |
| Heating elements | Induction cooking zones |
| High speed heating Power (Booster) | 5 |
| Hob top | Ceramic glass |
| Hob type | Electro |
| Middle central | Ø 21,0 cm – 2,3 (3,0 Power function) kW |
| Middle left | 39,0 / 21,0 cm – 3,0 (3,6 Power-Funktion) kW Doppelkochzone |
| Middle right | 39,0 / 21,0 cm – 3,0 (3,6 Power-Funktion) kW Doppelkochzone |
| Rear left | 21,0 / 19,0 cm – 1,8 (2,1 Power function) kW |
| Rear right | 21,0 / 19,0 cm – 1,8 (2,1 Power function) kW |
| Rectangular induction zones | yes |
| Residual heat indicators | yes |
| | |
| Oven | |
| Oven type | Multi 8 Multifunctional electric oven (top and bottom heat, hot air system, infrared grill – 8 operating modes) |
| Number of heating modes | 8 |
| Temperature control | infinitely variable |
| Capacity (L) | 115 |
| | |
| Interior | with easy-clean antiallergic enamel |
| Spit with motor | yes |
| Shelf support rails | chromed |
| Rack levels | 5 |
| Oven door | Triple-glazed glass door (removable door and inner panel) and recipe table on the panoramic glass |
| | |
| Equipment | |
| Timer | Fully electronic Touch control switch with programmer |
| Short-cycle timer | yes |
| LED operation indicator | yes |
| Start time delay | yes |
| Multifunction roast shelf (Pcs) | 1 × chromed |
| Baking tray with non-stick coating (Pcs) | 1 × with easy-clean antiallergic enamel |
| Spit frame (Pcs) | 1 × chromed |
| | |
| Comfort | |
| Separate residual heat indicator | for each of the five cooking zones |
| Time remaining indicator | yes |
| Door | folding door fixable in any position |
| Full glass inner door with recipe table | yes |
| Door glass | THERMO-REFLECTIVE Glass |
| Self-cleaning | catalytic self-cleaning |
| Telescopic extension | optionally up to 3-fold |
| Inner lighting | yes |
| Basket | Large roller-guided dish carriage with glass front |
| Adjustable feet | 15 mm |
| | |
| Technical specifications | |
| Dimensions H × W × D, (cm) | 90,0 × 90,0 × 60,0 |
| Power source | Electric |
| Mains voltage (V) | 380-400 |
| Frequency (Hz) | 50 |
| Power consumption (kW) | 13.6 |
| Fuse rating (A) | 40A |
| Meets safety | yes |
| Net weight (kg) | 101 |
| Gross weight (kg) | 111 |
Downloads
View full details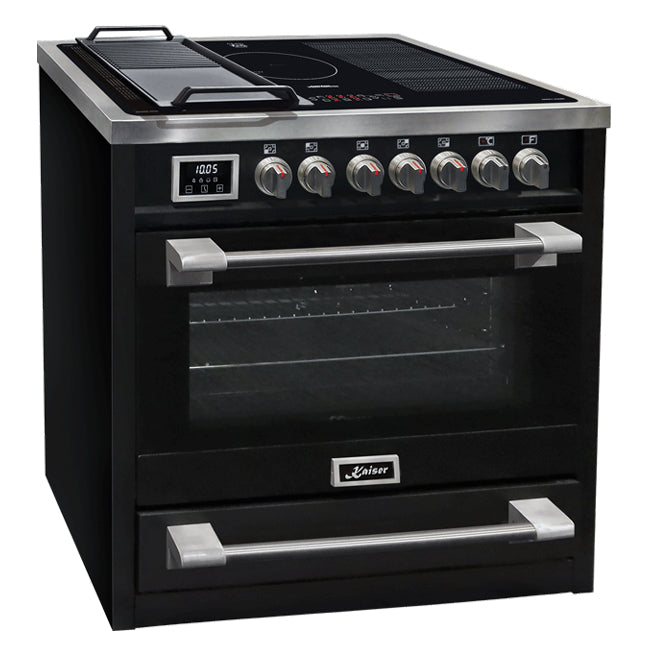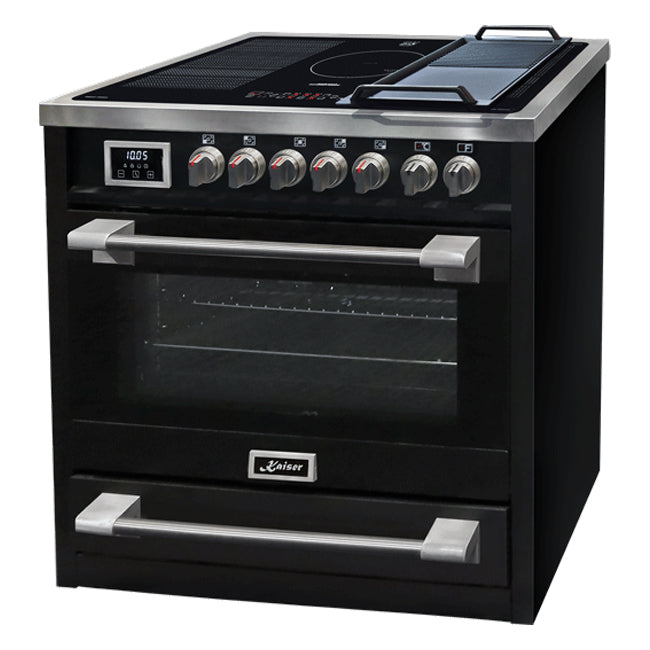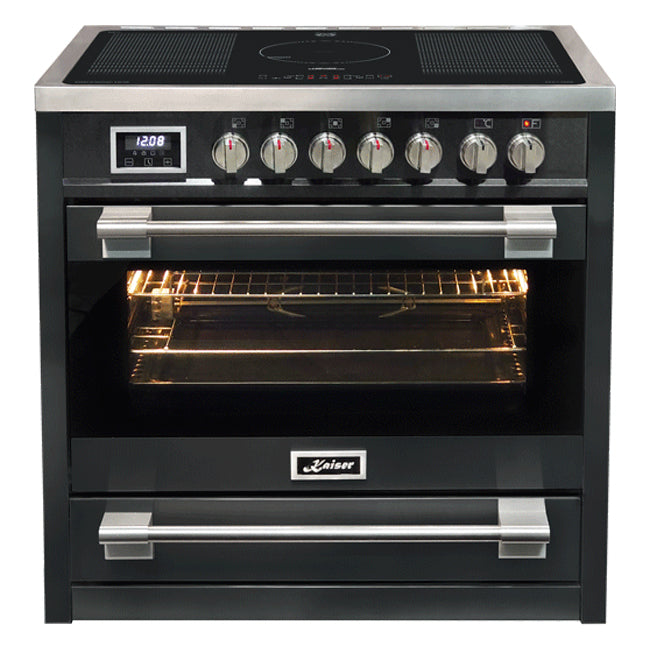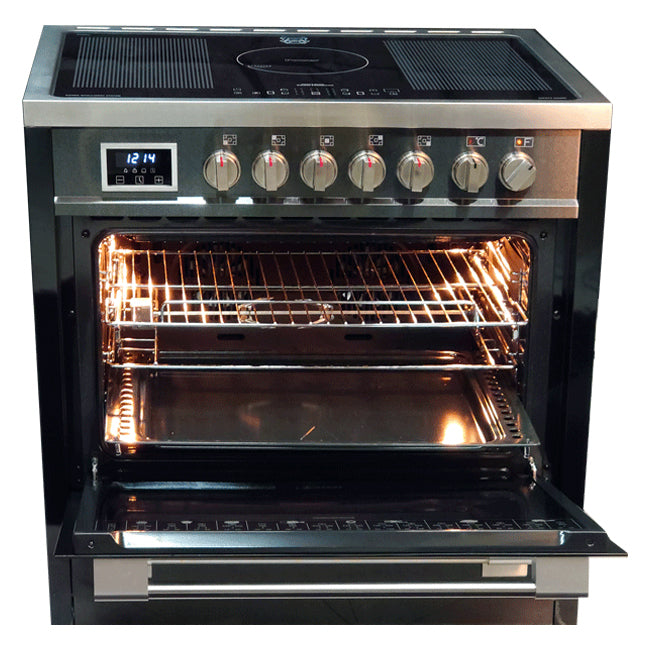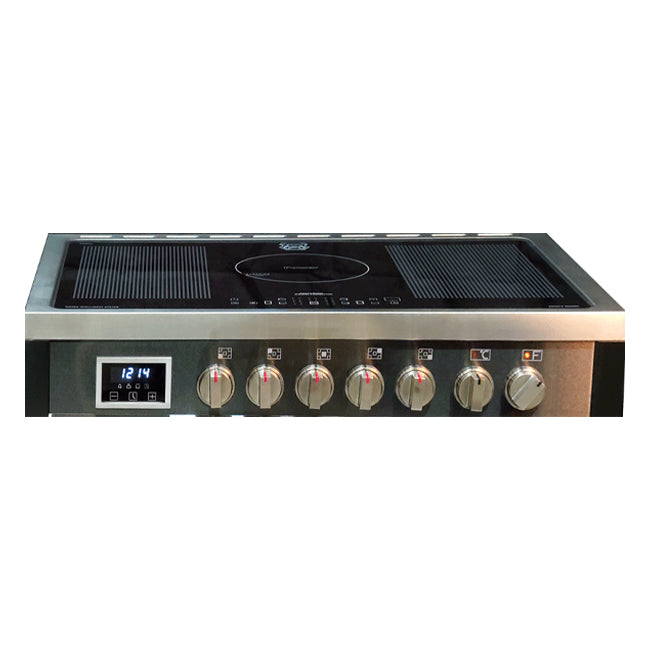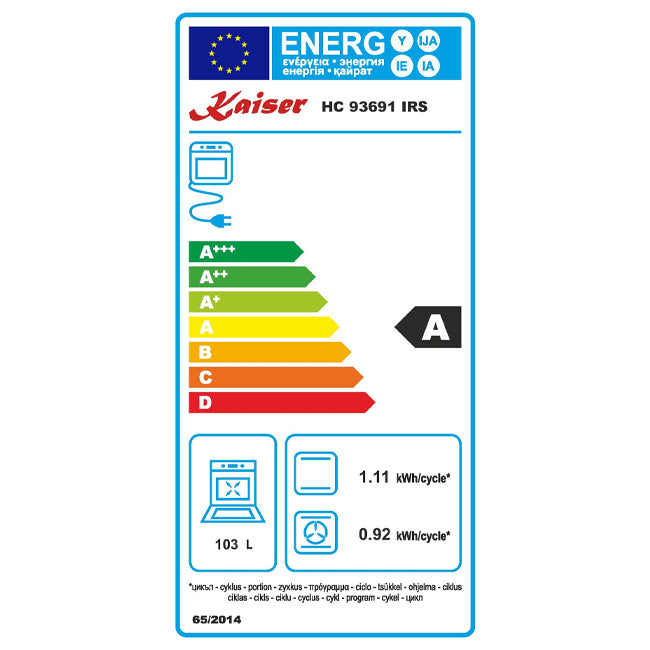 FREE SHIPPING

We offer a free delivery service on all appliances delivered in the UK.

30 DAY RETURNS

Hassle-free retuns if you are not 100% happy with your new appliance.

2 YEAR WARRANTY

Have complete peace of mind, with a 2 year warranty on all Kaiser appliances.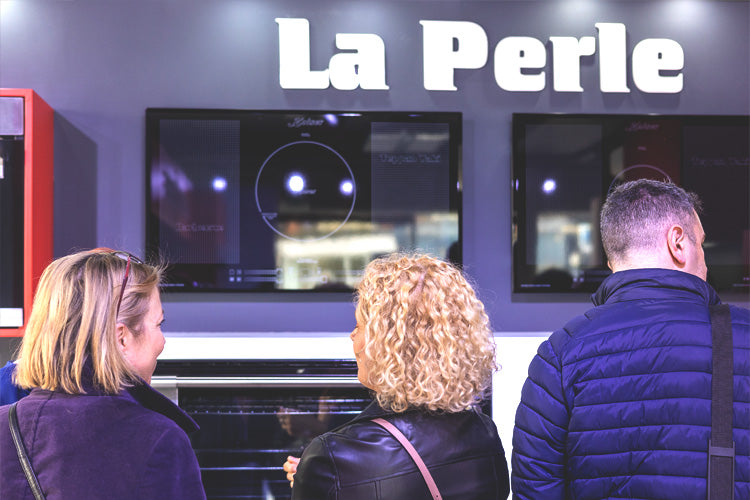 Virtual Showroom Appointments
Want to see our products live but can't make it to London? Book a free video call with our specialists.
We'll show you in detail any appliances you're interested in, answer any questions you may have, and provide expert advice and guidance.
Book Appointment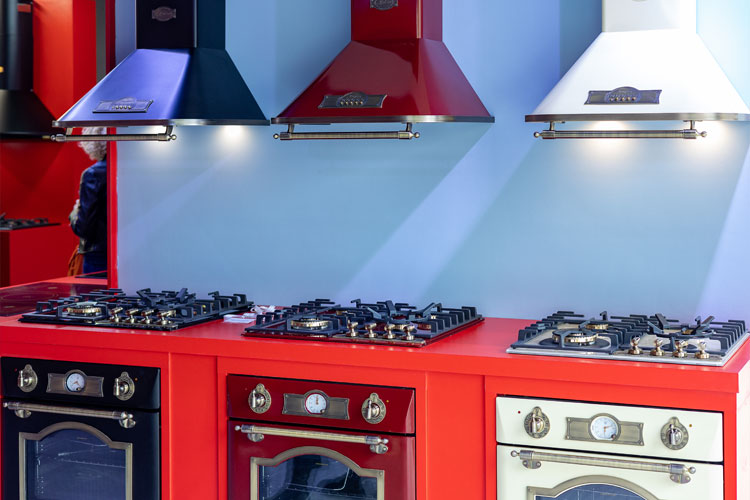 Save up to 13%
Supercharge Your Savings with Our Premium Kitchen Appliance Bundles! Upgrade your kitchen while saving up to 13% with our exclusive bundles. Whether you're eyeing a sleek combination of ovens, cooker hoods, hobs, dishwashers, and fridges from our thoughtfully crafted collections or want to curate your own set, we've got you covered. Unleash your inner chef and design the kitchen of your dreams while enjoying unbeatable discounts
Explore Bundles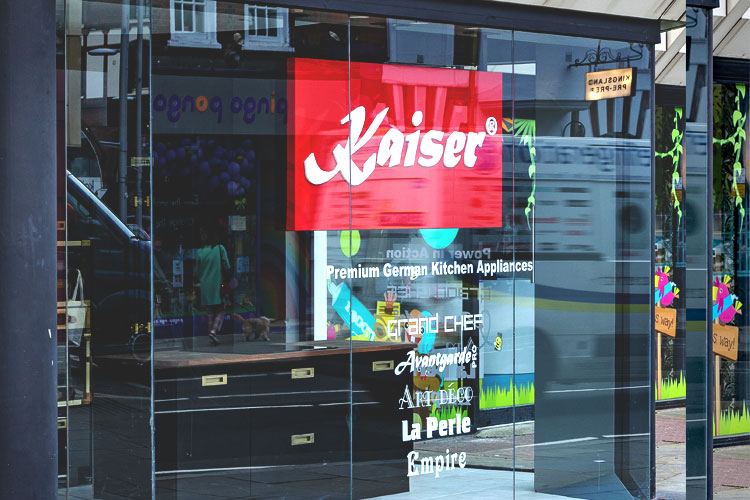 Visit Our London Showroom
We are happy to announce the opening of our new London Showroom, situated on Kings Road in Chelsea. Inside you will find an extensive collection, showcasing Kaiser's top appliances, spanning a massive selection of ranges, colours and designs.
Opening Times
German Design Award Winners