SKU: KS 90500 RS
Regular price
Sale price
£2,299.00
Unit price
per
Sale
Sold out
Black stainless steel finish with anti-touch technology, reducing smudges and fingerprint marks

Kaiser Intelligent System

Built-In Ice Maker

Built In Water Filter

Holiday Mode

Humidity control system

Inverter Technology

Fresh ICE System & water dispenser (plumbed into your water connection)

MULTI-BAR access to drinks

Super frost function to quickly bring to temperature

No frost system

Internal LED lighting

VitaminPLUS & Freeze Box compartments




556 litre capacity (refrigerator 385 litres / freezer 171 litres)

Energy efficiency class E

Dimensions (cm): H x 178, W x 91.1, D x 70.6
The Kaiser Avantgarde Pro KS 90500 RS. A black steel American style fridge freezer, that is the perfect choice for your modern family kitchen.
This 70/30 full sized Amercian fridge freezer has plenty of internal capacity, with a  385 litre fridge space & a 171 litre freezer space. On the freezer door there is our Fresh ICE System which provides cool fresh water (plumbed into your mains) & a variety of types of ice. Above this water & ice dispenser is our control unit, where you can set the operating temperature, vacation mode & other features for full control over the appliance.
Our personal favourite feature is the MULTI-BAR on the fridge door. This provides easy access to the internal drinks compartment, allowing you to reach into the fridge to grab milk for your tea/coffee during the day, or that bottle of Prosecco that's been chilling for the last few hours! As you don't need to open the main fridge door, this is a convenient and energy saving way to access drinks every day of the week.
The modern style is equally matched by modern technology for this appliance. Purposefully and thoughtfully designed to keep a variety of produce fresh for as long as possible. With our VitaminPLUS compartment prolonging the life of your fresh produce - saving you money on thrown away food, and allowing you to make fewer shopping trips for bringing fresh food into your home. And, of couse, we have a no frost system that regulates the temperature effectively and removes the need for lengthy & regular manual defrosting of your new appliance.
Full Description
Intelligent System - Electronic Controls
Full control over the electronic systems of the appliance for fully automatic cooling and freezing and the optimisation of its functions. The appliance is equipped with an electronic clock.
This control offers you a wide range of temperature regulation from -28 ºC to +6 ºC, allowing flexible and accurate setting for maximum food storage. Intelligent System also serves as a separate control of the operating functions for the refrigerator and freezer section.
No frost

The appliance defrosts automatically, reducing maintenance and service of the refrigerator. The air recirculation ensures an equal distribution of temperature in all chambers, precise temperature control, fast cooling and freezing. It provides faster temperature recovery in the chamber after loading a large quantity of products, or simply repeated door opening. This positively affects the quality of cooling; preserving your food and saving energy.

Inverter motor

Reduced power consumption and significantly lower noise, from our long life compressor. Provides precise temperature control and keeping fresh. Temperature sensors together with microprocessing technology optimise the motor's performance for maximum efficiency of cooling and freezing.

LED illumination

Provides substantial interior lighting of the entire refrigerator compartment without the user being dazzled.

Fresh ICE System ice maker with water connection
Designed to automatically make different kinds of ice: cubes, crushed ice and cold water. Equipped with own container for storage of ready ice.

VitaminPLUS

Enhances the storage life of vegetables and fruits. The upper dry box with a DayLight lighting system keeps food fresh for a long time and helps you to maintain a healthy and balanced diet.

MULTI-BAR
The drinks bar is equipped with their own small door. Just push the door to get your favorite frigid drinks. The KAISER MULTI-BAR also has the shelf for four beverage cans.

Freeze Box

Transparent plastic boxes made of cold-resistant plastic. A highly-effective special chamber developed for storage of fish, meat, chicken, cheese. It will allow these food groups to keep taste and nutritional properties three times longer (compared to traditional storage conditions).

Super Frost

The super frost function provides ultra-fast freezing of stored food. The freezer switches on to normal operation in 24-48 hours.

Acoustic beeps

When the door is open for more than 90 seconds a signal sounds for you to remember that the door must be closed. The acoustic signal stops once the door is closed.

Side by side

The refrigerator has LED lighting in both chambers, the door shelves are at the two doors. It allows to keep various goods positioned for your own comfort.
Vacation Mode
In this mode, the temperature in the freezer compartment is set to -15 °C and in the fridge compartment to +7 °C. After holiday mode has been cancelled, the temperature in the freezer and in the fridge will return to the previously set values.
Specification
Product description
Energy class:
E (A+ according to the regulation until 28.02.21)
Compressors (No):
1
Gross total capacity (L):
556 l
Refrigerator net capacity (L):
385 l
Freezer net capacity (L):
171 l
Freezer storage temperature (° C):
-18°C and lower, deep freezing
Star rating:
* / ***
Freezing capacity (kg / 24 h):
8 kg / 24 h
Storage time in power failure (h):
20 h
Open door indication by audable and visible signal:
yes
Temperature increase alarm:
yes
Defrost system (Fridge/Freezer):
No Frost
Superfrost:
yes
Interior lighting:
LED
Fridge
Slide-in containers MULTIBOX (No):
VitaminPLUS
Door compartments (No):
3
Egg trays (No):
1
Freezer
Shelves (No):
3
Ice cube bags (No):
1
Tecnical details
Finishing:
Black steel with Anti touch effect
Dimensions:
Height (cm): 178
Width (cm): 91.1
Depth (cm): 70.6
Dimensions in packaging (H × W × D), cm:
184.5 × 96.8 × 75
Energy consumption daily (kWh):
0.88 kWh
Energy consumption yearly (kWh):
322 kWh
Refrigerating agent:
R 600 A
Climate class:
SN / N / ST / T
Net weight: (kg)
118 kg
Gross weight (kg):
128 kg
Video 
Downloads
View full details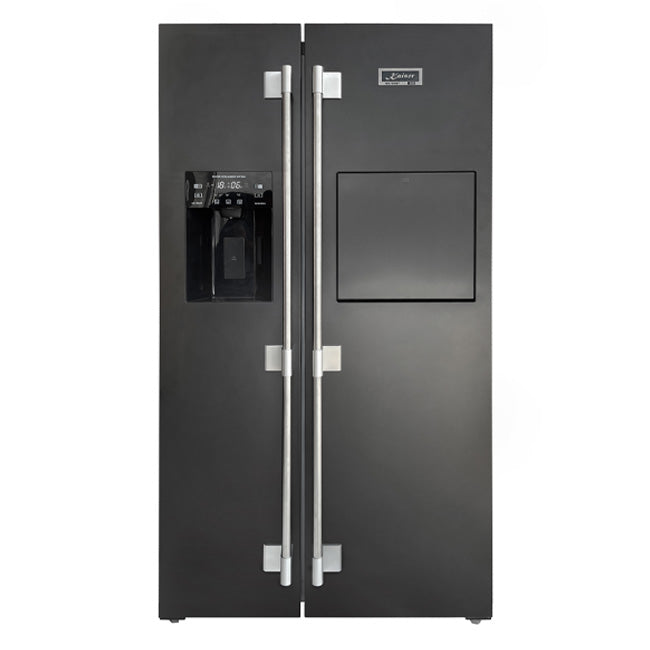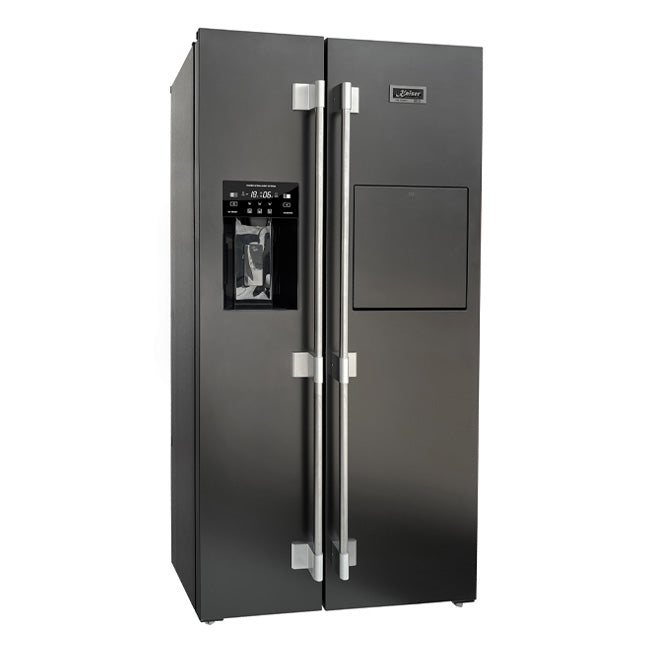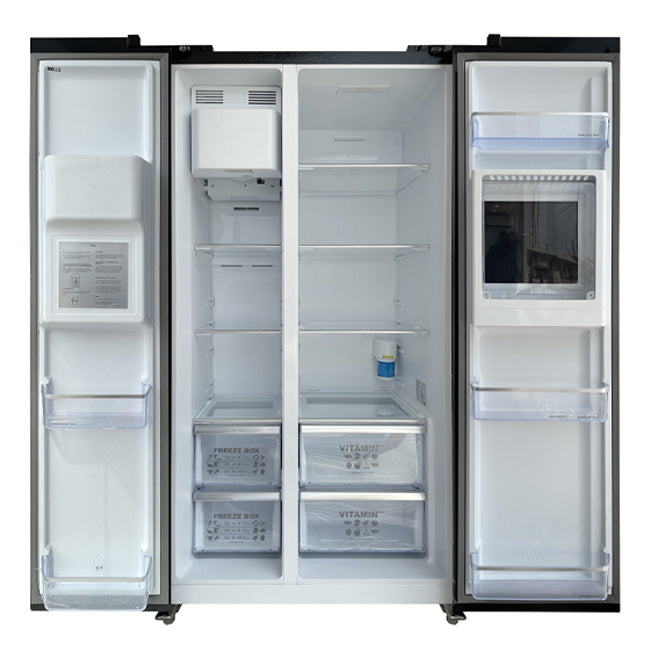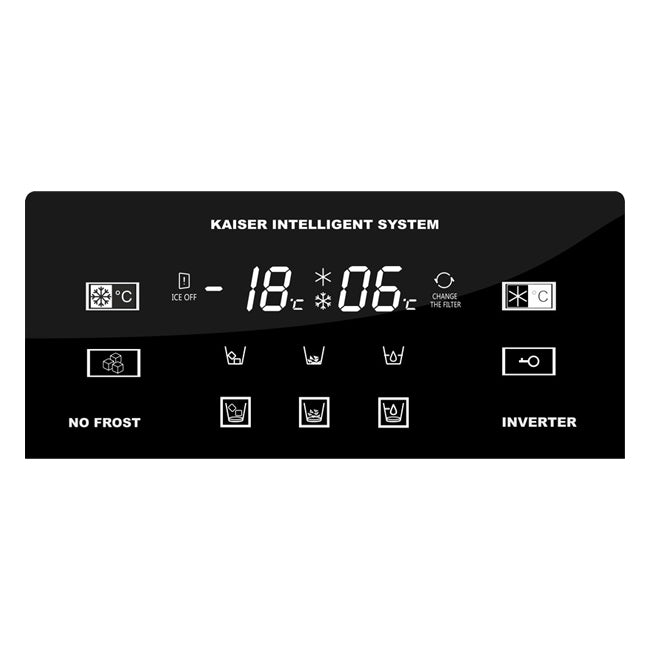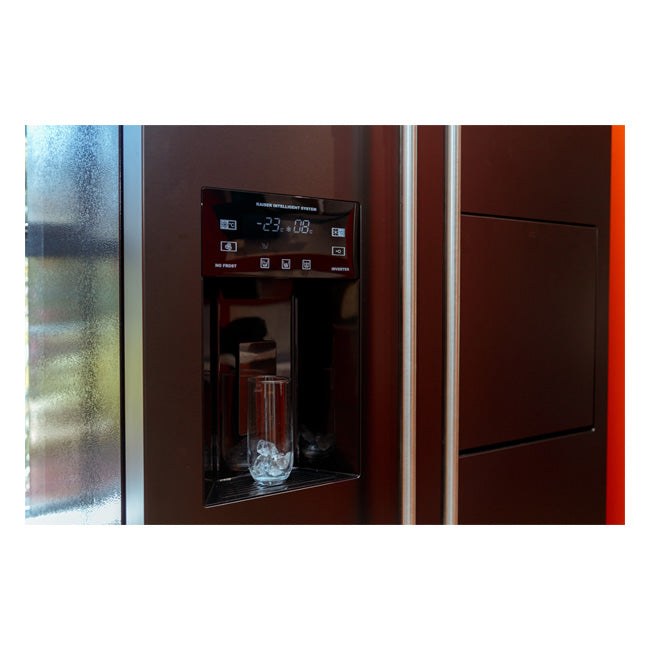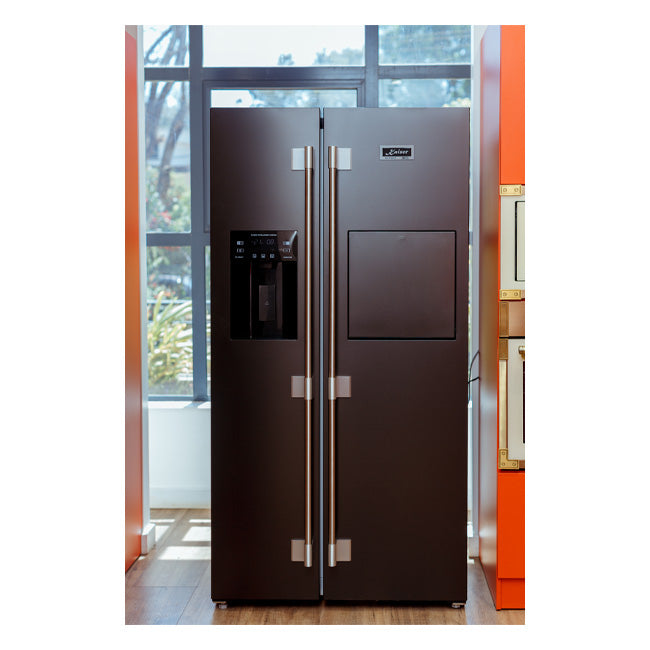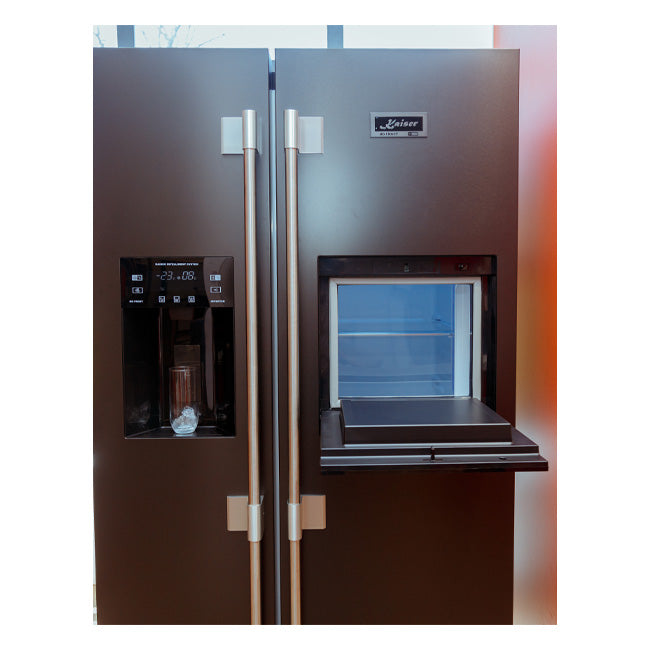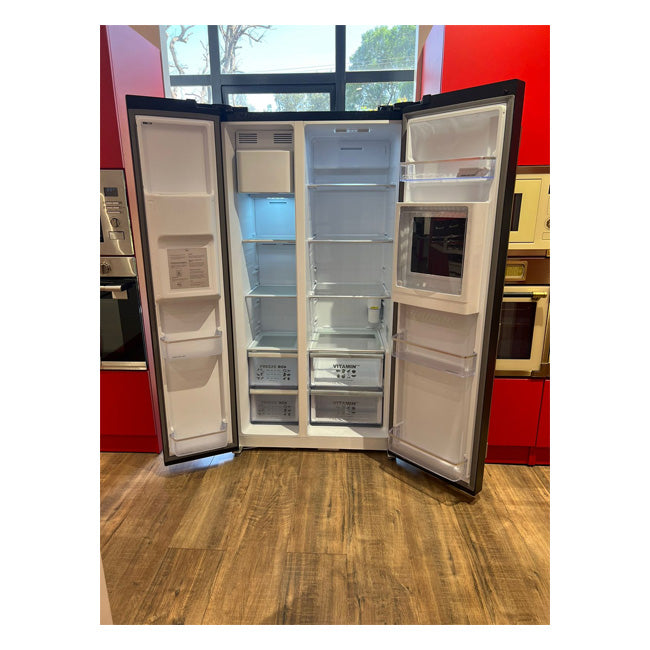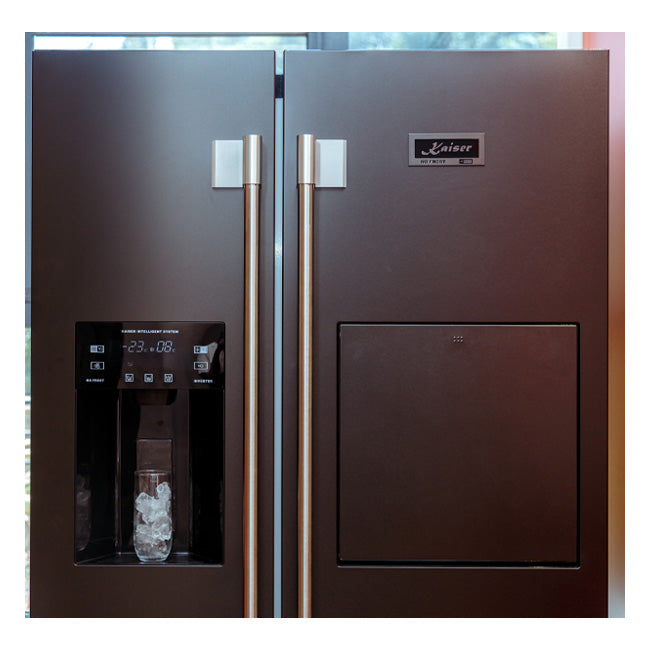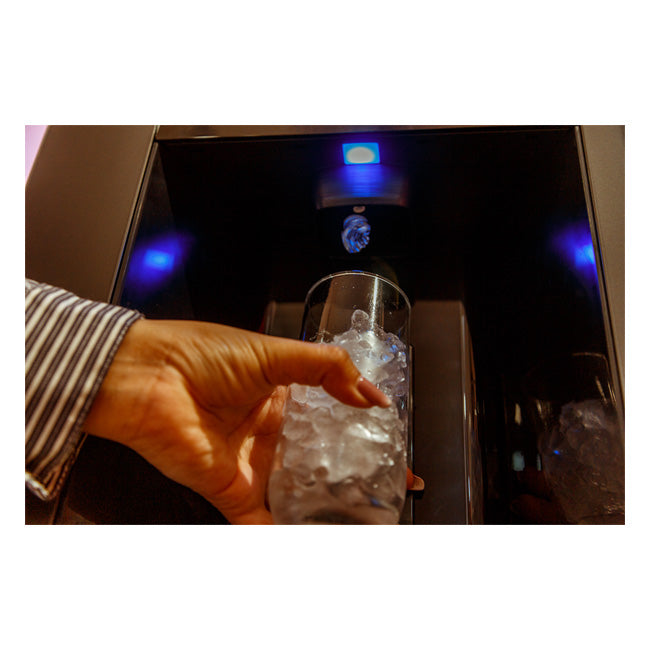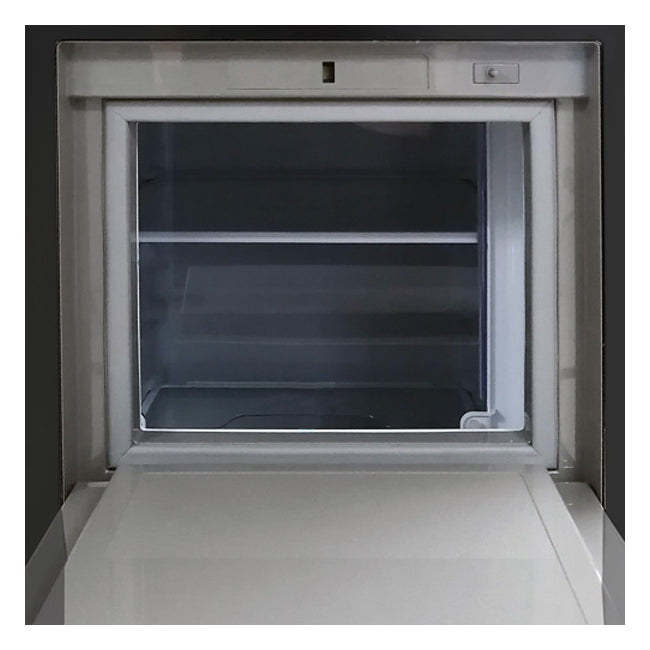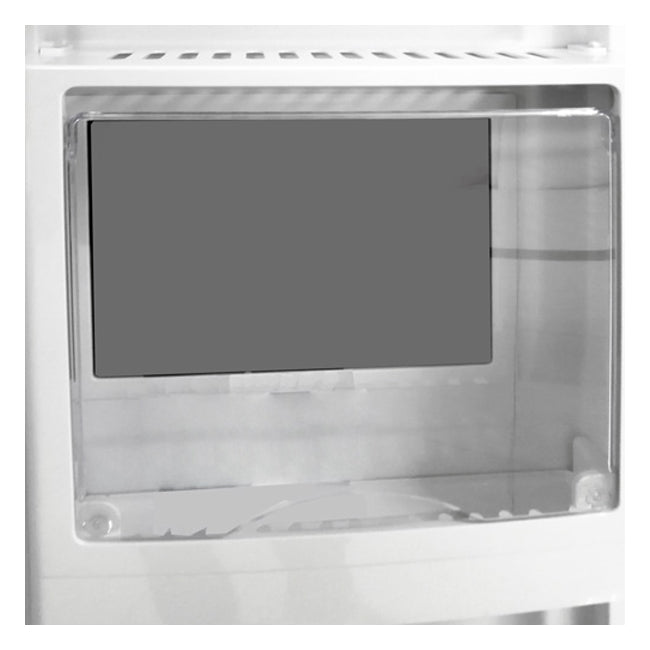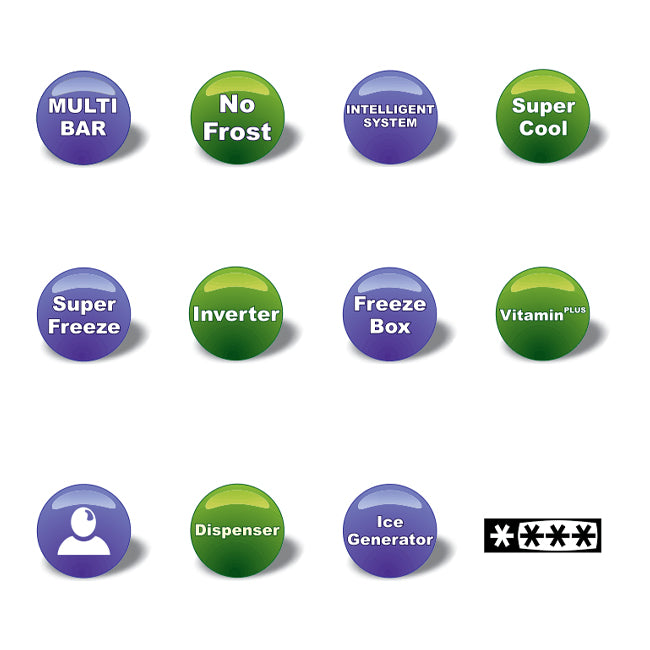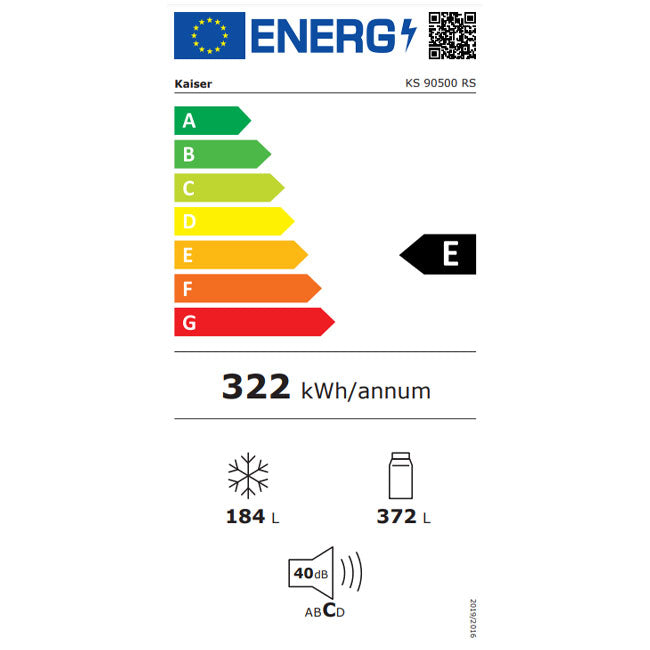 FREE SHIPPING

We offer a free delivery service on all appliances delivered in the UK.

30 DAY RETURNS

Hassle-free retuns if you are not 100% happy with your new appliance.

2 YEAR WARRANTY

Have complete peace of mind, with a 2 year warranty on all Kaiser appliances.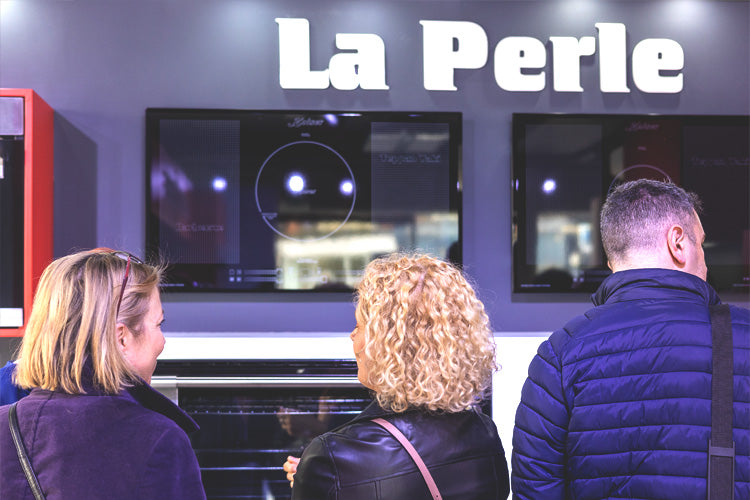 Virtual Showroom Appointments
Want to see our products live but can't make it to London? Book a free video call with our specialists.
We'll show you in detail any appliances you're interested in, answer any questions you may have, and provide expert advice and guidance.
Book Appointment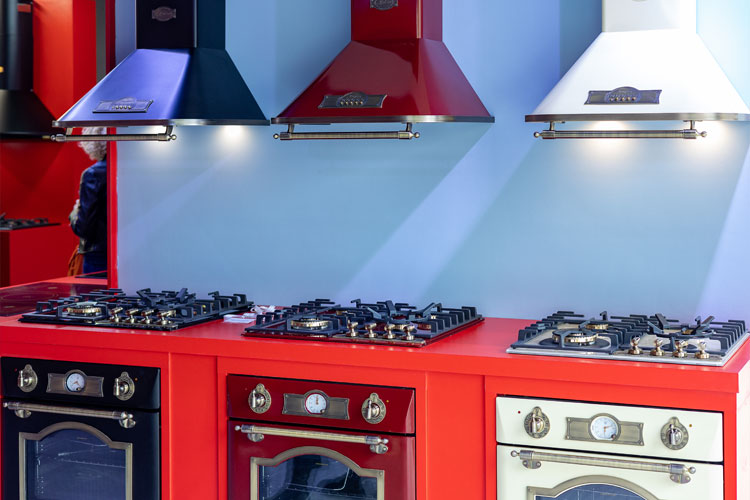 Save up to 13%
Supercharge Your Savings with Our Premium Kitchen Appliance Bundles! Upgrade your kitchen while saving up to 13% with our exclusive bundles. Whether you're eyeing a sleek combination of ovens, cooker hoods, hobs, dishwashers, and fridges from our thoughtfully crafted collections or want to curate your own set, we've got you covered. Unleash your inner chef and design the kitchen of your dreams while enjoying unbeatable discounts
Explore Bundles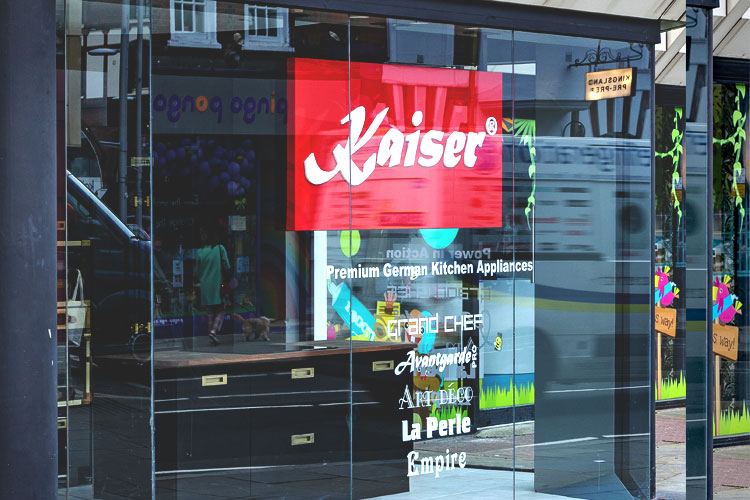 Visit Our London Showroom
We are happy to announce the opening of our new London Showroom, situated on Kings Road in Chelsea. Inside you will find an extensive collection, showcasing Kaiser's top appliances, spanning a massive selection of ranges, colours and designs.
Opening Times
German Design Award Winners