SKU: EH 6338 S
Regular price
Sale price
£1,099.00
Unit price
per
Sale
Sold out
Fantastic all-round, easy-to-use built-in Oven
Advanced Pyrolytic Self-cleaning 
Extra Large 79 Litre Capacity
Fan cooking and Defrosting settings
Infrared grill cooking
Internal Food Probe - for perfect temps every time
Digital display with Logic Control and intelligent system
Electronic timer
Energy efficiency class A
Product Dimensions H x W x D (cm) = 59.4 × 59.4 × 55.6
The Avantgarde Pro EH 6338 S is an outstanding built-in electric oven suitable for any kitchen. Finished in Black glass, this electric multifunction oven is a must-have all-rounder, with many useful cooking features.
With Pyrolytic and self-cleaning technology, this oven is incredibly easy to maintain and clean. Additionally, the front glass is Thermo Reflective so this helps ensure that heat doesn't escape to make the oven more energy efficient.

Full Description
Conventional Cooking

A classical system in which top and bottom heat are used to cook a single dish.
Place the food in the oven only once cooking temperature has been reached, i.e. when the heating indicator goes out.
If you want to increase top or bottom temperature towards the end of the cooking cycle, set the temperature control to the right position.
It is advisable to open the oven door as little as possible during cooking.
Fan Cooking

For this type of cooking a fan positioned at the back allows the circulation of hot air inside the oven, creating uniform heat.
In this way cooking is more rapid than conventional cooking.
It is a suitable method for cooking dishes on more than one shelf, especially when the food is of different types (fish, meat etc.)
Defrosting

By selecting one of the fan cooking functions and setting the temperature regulator to zero, the fan allows cold air to circulate inside the oven.
In this way frozen food can be rapidly defrosted.
It is not essential to pre-heat the oven, but you are advised to do so when cooking pastries.
Grill Cooking

This function is used to grill or brown foods.
Place the shelf with the food to be cooked in the 1st or 2nd position from the top.
Pre-heat the oven for 5 minutes.
Set the temperature regulator to a temperature between 50 °C and 200 °C.
Food Probe

The food probe is a thermometer which is inserted in the cooking food.
With that thermometer you can control the internal temperature (core temperature) and then use to determine the end of the cooking time.
When the preset temperature is reached, the oven automatically turns off.
Using the food probe will ensure the perfect baking and roasting results.
Control

Electronic programmer Intelligent System
Electronic sensor control
Digital display
Electronic timer
The electronic timer is a short-term timer with an audible signal. It can be used to conveniently program the working time for the oven. You can select the appropriate time to begin and end the cooking mode with the help of the buttons. The working time will be indicated on the digital display.

Circulation system
This ensures permanent cooling of the oven to safely build-in the appliance into kitchen furniture.

Infrared grill
The infrared grill is ideally suited if you prefer to cook fish, steak or toast in the oven. If you like a crispy outside, slightly open the oven door or use the ventilator to achieve the best results.

Hot air system
The hot air system is a convenient, modern function. It consists of ring radiators and high-efficiency ventilators and provides even distribution of hot air throughout the oven cavity. The oven temperatures can be set to 50° – 280°C which is ideally suited for baking cakes and biscuits. Fan-assisted cooking reduces cooking time, so is both time and energy saving. This system ensures a substantially cleaner oven, prevents fat and juice from draining and ultimately provides better tasting food.

Easy clean – antiallergical, environmentally friendly enamel
The interior of the oven is coated with an easy clean enamel. The enamel by Kaiser has the following characteristics:

Antiallergic
Easy to care pyrolytic cleaning
Antibacterial
Hygienic
Durable coating
Environmentally Friendly
Pyrolytic self-clean function

This function provides you with a fast cleaning oven. The temperature of the oven rises up to 400 °C and this will be supported for a 1 hour duration. During pyrolytic cleaning your kitchen furniture is not exposed to strong thermal shock.

The pyrolysis provides permanent and convenient cleaning of even the hardest to reach places (e.g. top and back surfaces of the oven cavity). No need to scrub. Baked-on spots of grease and sauce can be easily removed in a blink!

Easy fit shelf support rails

The shelf support rails are made of stainless steel. You can pull out baking trays and wire shelves without any damage to the enamel. The side rails can be easily dismantled which ensures convenient cleaning of the oven cavity. The shelf support rails can be washed by hand or simply put in the dishwasher for convenient cleaning.
Specification
| | |
| --- | --- |
| Product Details | |
| Finishing | Black glass |
| Oven type | Builit-In electric oven Multi 11 Multifunctional electric oven with pyrolityc function |
| Energy efficiency class | A |
| Operation | Electronic sensor-controlled programmer Intelligent System with metal rotary knobs |
| Control knobs | Ergonomical rotary metal knob / INOX |
| Door handle | Metal / INOX |
| Number of Programs | 8 |
| Lighting | yes |
| Type of lighting | 1 × Lamp |
| Indicator lights | yes |
| | |
| Oven | |
| Oven type | Builit-In electric oven Multi 11 Multifunctional electric oven with pyrolityc function |
| Number of heating modes | 10 |
| Temperature control | infinitely variable |
| Gross capacity (L) | 79 |
| Nettokapazität nach EU-Standards (L) | 73 |
| Interior | reinigungsfreundliche hypoallergene Easy-clean Emaille |
| Front cold air system | yes |
| Tangential circulation system | yes |
| Spit with motor | yes |
| Shelf support rails | chromed |
| Rack levels | 5 |
| Oven door | Quadruple-glazed glass door (removable door and inner panel)  |
| | |
| Equipment | |
| Timer | Electronic timer with sensor-controlled programmer |
| Short-cycle timer | yes |
| Start time delay | yes |
| Multifunction roast shelf (Pcs) | 1 × chromed |
| Enamelled baking tray (Pcs) | 1 × with easy-clean antiallergic enamel |
| Enamelled baking pan (Pcs) | 1 × with easy-clean antiallergic enamel |
| Removable handle for baking trays (Pcs) | 1 × chromed |
| | |
| Comfort | |
| Door | folding door fixable in any position |
| Full glass inner door with recipe table | yes |
| Door glass | THERMO-REFLECTIVE Glass |
| Self-cleaning | Pyrolytic function |
| Telescopic extension | 2-fold – used in every level, optional up to 3 -fold |
| Inner lighting | yes |
| | |
| Technical Specifications | |
| Dimensions H × W × D, (cm) | 59,4 × 59,4 × 55,6 |
| Power source | Electric |
| Mains voltage (V) | 220 – 240 |
| Frequency (Hz) | 50 |
| Power consumption (kW) | 3.22 |
| Fuse rating (A) | 16 |
| Meets safety | yes |
| Net weight (kg) | 43.3 |
| Gross weight (kg) | 47.8 |
Videos
Downloads 
View full details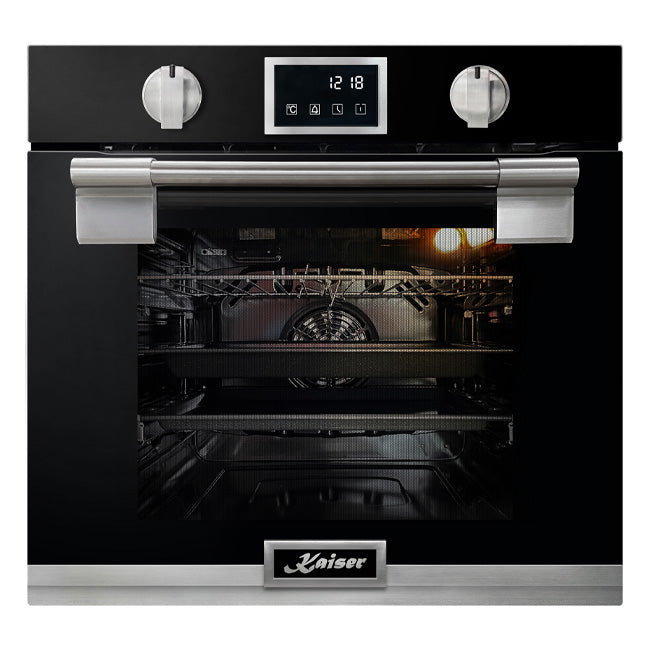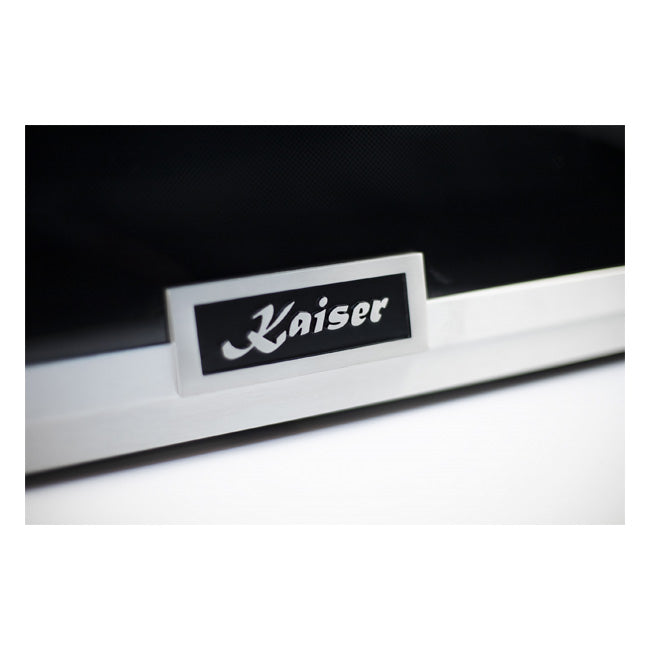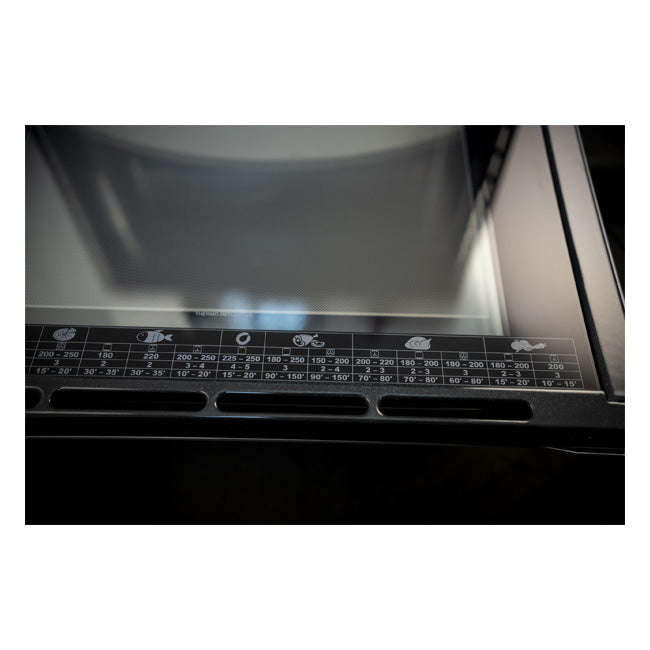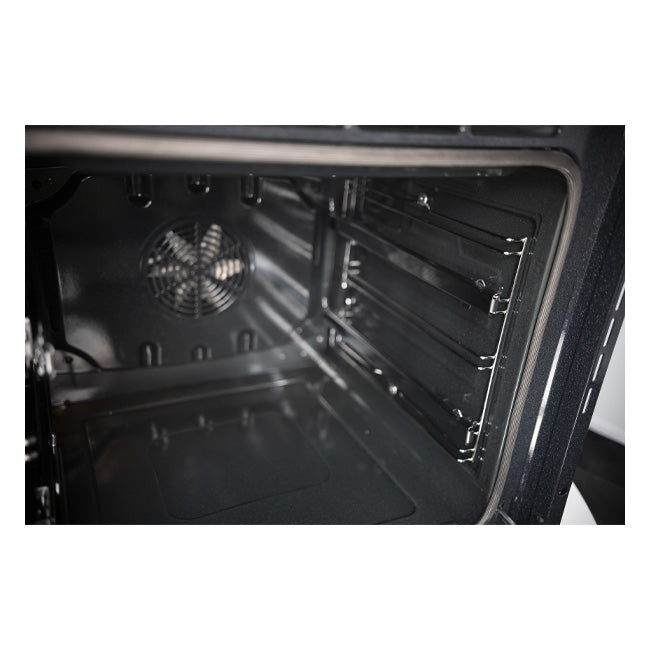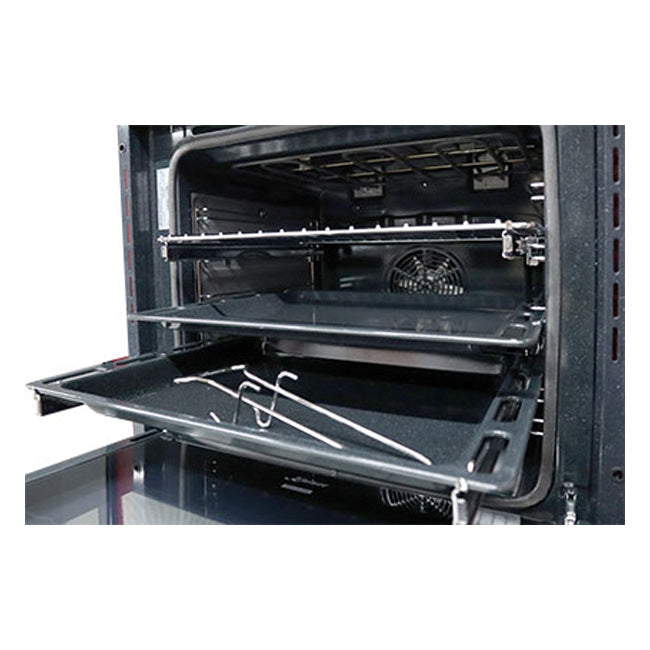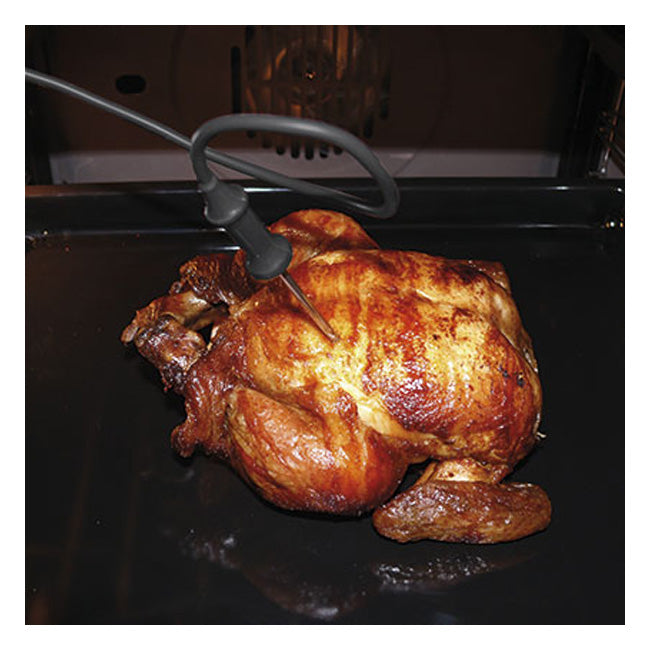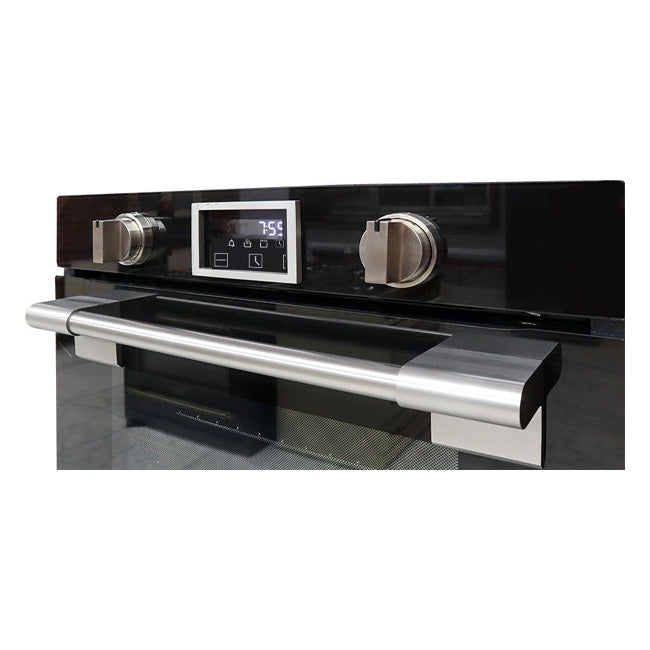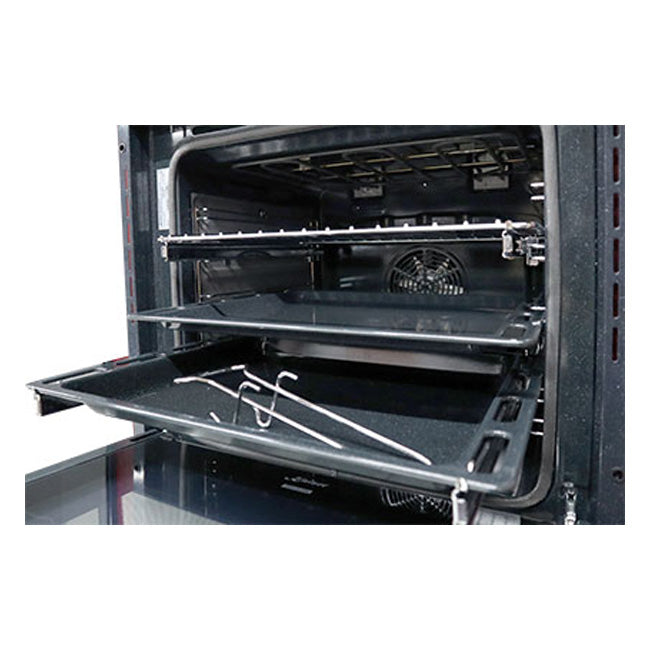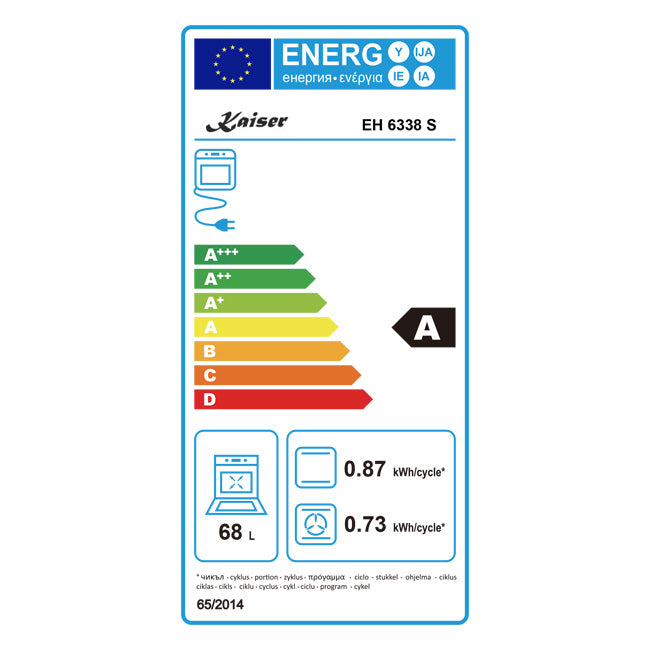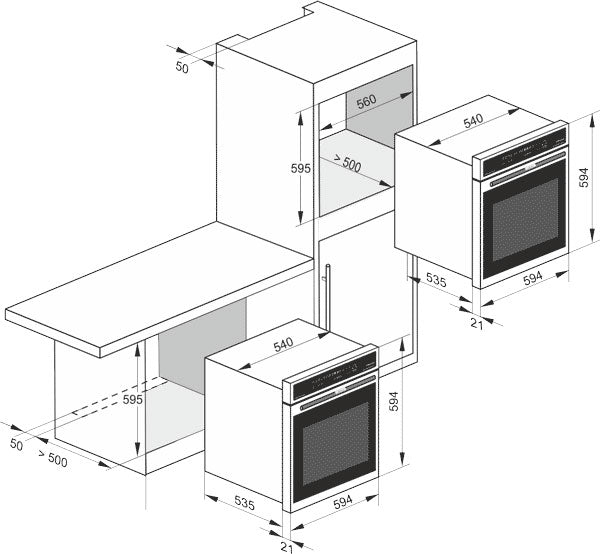 FREE SHIPPING

We offer a free delivery service on all appliances delivered in the UK.

30 DAY RETURNS

Hassle-free retuns if you are not 100% happy with your new appliance.

2 YEAR WARRANTY

Have complete peace of mind, with a 2 year warranty on all Kaiser appliances.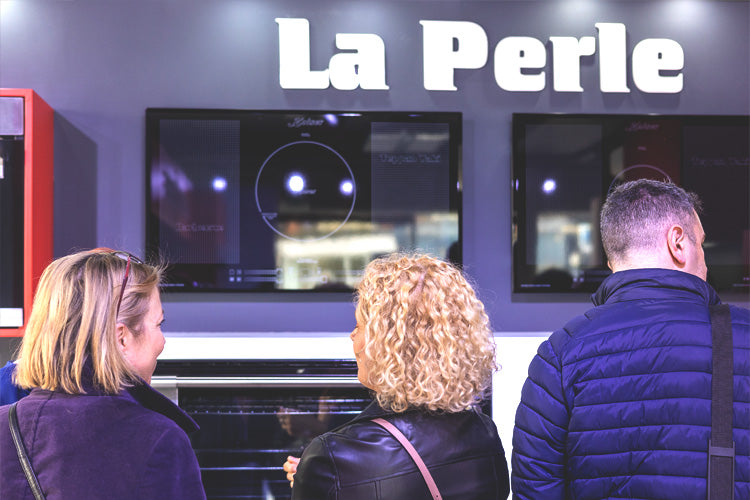 Virtual Showroom Appointments
Want to see our products live but can't make it to London? Book a free video call with our specialists.
We'll show you in detail any appliances you're interested in, answer any questions you may have, and provide expert advice and guidance.
Book Appointment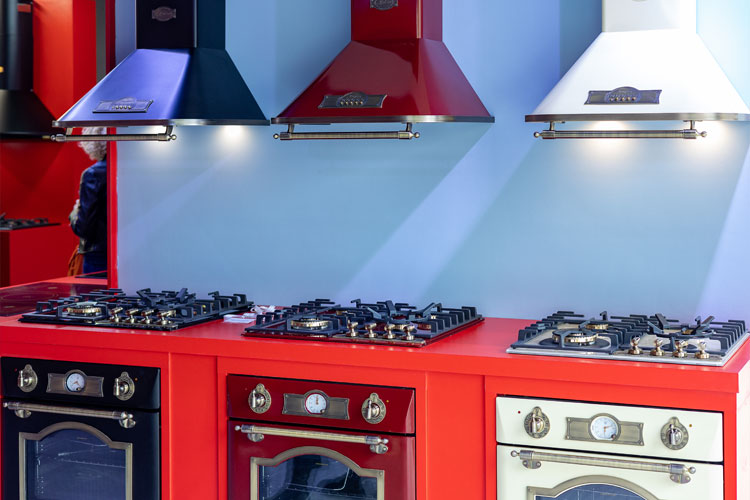 Save up to 13%
Supercharge Your Savings with Our Premium Kitchen Appliance Bundles! Upgrade your kitchen while saving up to 13% with our exclusive bundles. Whether you're eyeing a sleek combination of ovens, cooker hoods, hobs, dishwashers, and fridges from our thoughtfully crafted collections or want to curate your own set, we've got you covered. Unleash your inner chef and design the kitchen of your dreams while enjoying unbeatable discounts
Explore Bundles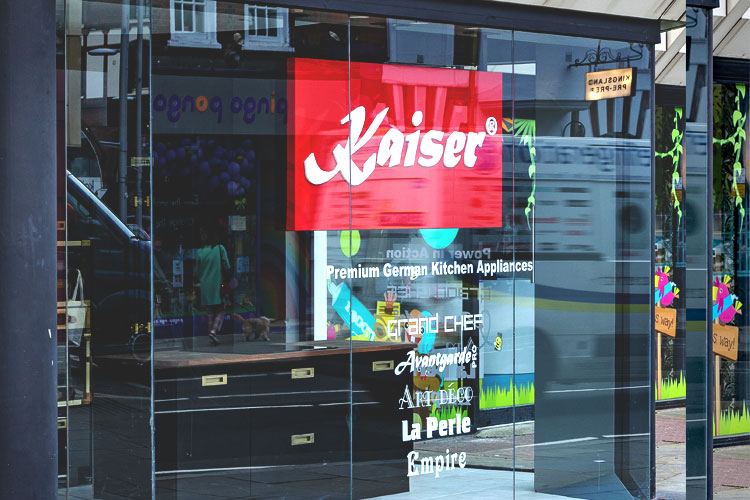 Visit Our London Showroom
We are happy to announce the opening of our new London Showroom, situated on Kings Road in Chelsea. Inside you will find an extensive collection, showcasing Kaiser's top appliances, spanning a massive selection of ranges, colours and designs.
Opening Times
German Design Award Winners