SKU: EH 4747
Regular price
Sale price
£669.00
Unit price
per
Sale
Sold out
Multi-functional electric oven, with 9 cooking modes
Sleek 45cm Compact Oven
Elegant metal rotary control knobs
Large 50 Litre Cooking Capacity
Easy clean enamel interior
Infrared Grill
Hot Air Technology for consistent cooking temperatures
Electronic timer (set total cooking time/on-off time etc)
Energy efficiency class A+
Product Dimensions = H x 59.5cm, W x 45cm, D x 56.8cm
Elevate your kitchen aesthetics with the stunning Grand Chef EH 4747, a 45cm electric oven that blends seamlessly into a range of exquisite kitchen styles. Boasting a sleek black mirror glass front, this oven becomes a captivating centerpiece while effortlessly complementing the elegance of your space. Its classic yet user-friendly design, accentuated by a central digital display timer and intuitive operating knobs, ensures that mastering your culinary creations has never been easier.
Versatility Redefined
Experience culinary freedom like never before with an array of 9 meticulously crafted operating modes. From delicate pastries to succulent roasts, this oven offers a spectrum of options to ensure your dishes are prepared to perfection, every time. Let your creativity flourish as you explore the diverse cooking modes, all designed to cater to your every culinary whim.
Bigger Possibilities in a Compact Form
Size matters and the Grand Chef EH 4747 understands this perfectly. Its compact 45cm dimensions mean that you can enjoy the benefits of a high-performance electric oven, even in kitchens with limited space. Don't let the size deceive you – within this oven lies a world of culinary exploration waiting to unfold.
Indulge in the Grand Chef EH 4747, where style, functionality, and innovation converge to redefine your cooking journey. Elevate your kitchen with a touch of sophistication and let your culinary aspirations take flight.
Full Description
Electronic Control Intelligent System
Experience complete control over the electronic systems of the appliance, enabling fully automatic roasting and baking, as well as optimization of all functions. The system also incorporates an electronic timer.
This forms an integral part of the programming unit, which not only functions as a timer with an acoustic signal but also allows you to program the oven's operating time. Easily set the start and end times using the touch keys. The remaining time is displayed on the digital screen.
Combining Rotary Knob and Touch Functionality
All primary and additional functions of the appliance are accessible either by touching the corresponding buttons on the touch display or by turning either of the two rotary knobs.
Advanced Circulation System
Designed to cool the oven housing, this circulation system ensures the appliance can be seamlessly integrated into various types of kitchen furniture.
Infrared Grill Capability
The infrared grill is perfect for cooking fish, steaks, or toasting in the oven. Achieve crispy dishes by roasting with the oven door slightly ajar or by utilizing the fan.
Efficient Hot Air System
The contemporary hot air system operates through the ring heater and fan. This guarantees uniform circulation of hot air, reaching every corner of the baking chamber.
Convenient Slide-in Side Rails
The stainless steel grids are exceptionally practical for smoothly pulling out baking trays and grates without causing damage to the enamel. Detachable side rails simplify oven interior cleaning, and they can be easily cleaned by hand or in the dishwasher.
Environmentally Friendly Easy-Clean Enamel
The oven interior features a coating of Easy Clean enamel, promoting healthful cooking, effortless maintenance, environmental consciousness, and lasting durability. Kaiser enamel boasts the following attributes:
• Easy to maintain
• Antibacterial properties
• Hygienic design
• Suitable for individuals allergic to nickel
• Long-lasting coating with extended service life
• Imparts gloss, smoothness, color retention, and temperature stability
• Environmentally conscious choice
Specification
| | |
| --- | --- |
| Product Details | |
| Execution | Black mirror glass with facets |
| energy efficiency class | A+ |
| steering | Electronic sensor-controlled Intelligent System programming unit with metal rotary knobs |
| control knob | Ergonomic metal toggles |
| door handle | Metal / INOX |
| number of programs | 9 |
| lighting | Yes |
| lighting type | 1 × lamp |
| indicator lights | Yes |
| | |
| Comfort | |
| door | Hinged door can be held in any position |
| Full glass inner door with recipe table | Yes |
| door glass | THERMO-REFLECTIVE glass |
| telescopic extension | 1-fold - can be used in every level, optionally up to 3-fold |
| interior lighting | Yes |
| | |
| Furnishing | |
| timer | Electronic timer with sensor-controlled programming unit |
| minute minder | Yes |
| Digital operating display | Yes |
| Delay start time | Yes |
| Combination grate (St) | 1 × chrome plated |
| Enamelled baking tray (St) | 1 × easy-to-clean anti-allergic enamel |
| | |
| Oven | |
| oven type | Multi 9 multifunction electric oven (top / bottom heat, hot air system, infrared grill, etc. - 9 operating functions) |
| Number of heating types | 8th |
| temperature control | stepless |
| Capacity (Litres) | 50 |
| cooking chamber | easy-to-clean hypoallergenic easy-clean enamel |
| front cold air system | Yes |
| Tangential circulation system | Yes |
| shelf rails | chromed |
| shelf levels | 5 |
| oven door | with triple glazing (removable oven door and inner glass pane) and recipe table on the panorama glass |
| | |
| Technical data | |
| Device dimensions H × W × D, (cm) | 59.5×45.0×56.8 |
| Niche dimensions H × W × D, (cm) | 60.0×43.0×55.5 |
| Packing dimensions H × W × D, (cm) | 66.5×53.0×65.2 |
| energy source | Electric |
| Mains voltage (V) | 220-240 |
| Line frequency (Hz) | 50 |
| Total connection(kW) | 2.8 |
| fuse (A) | 16 |
| Complies with safety regulations | yes |
| Net weight (kg) | 24.5 |
| Gross weight (kg) | 27.5 |
| GTIN | 4032495081390 |
Downloads
View full details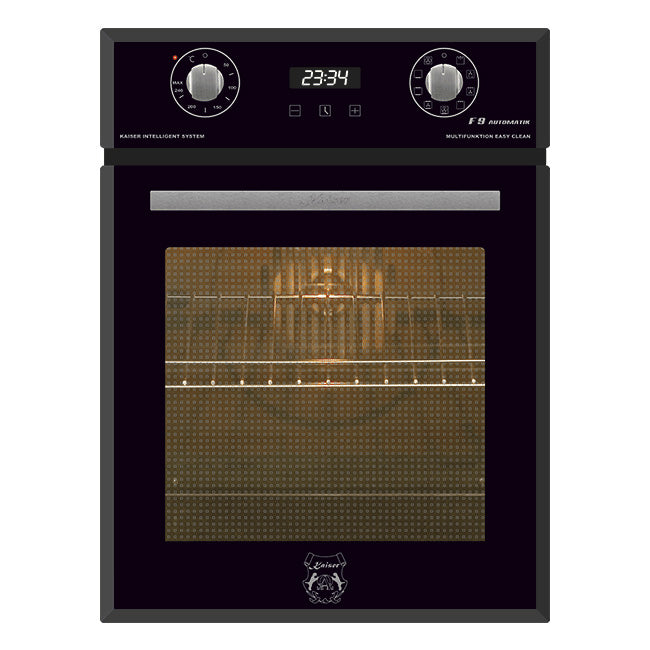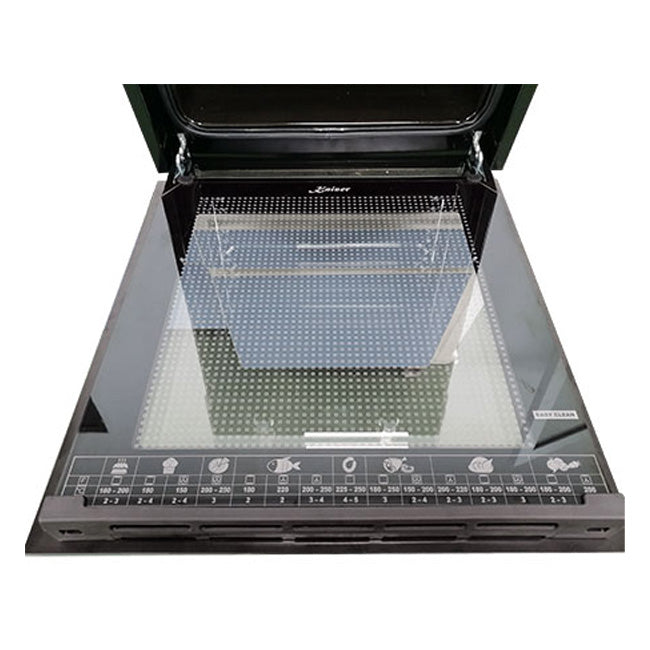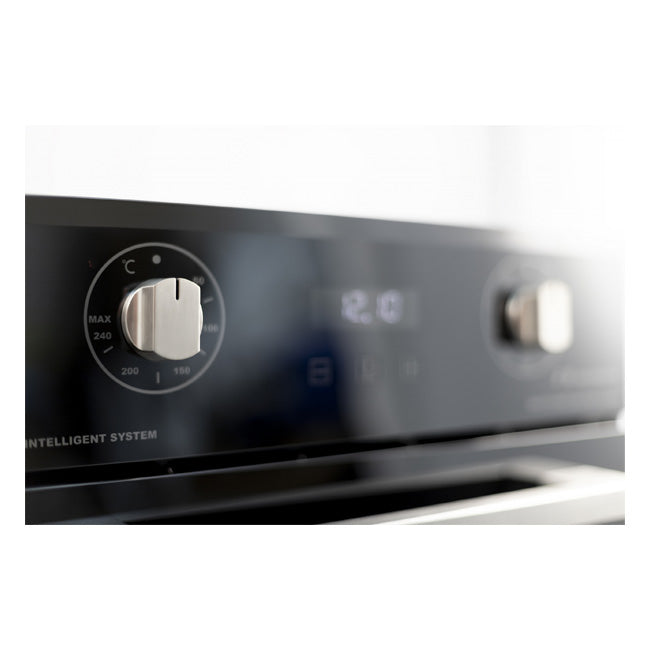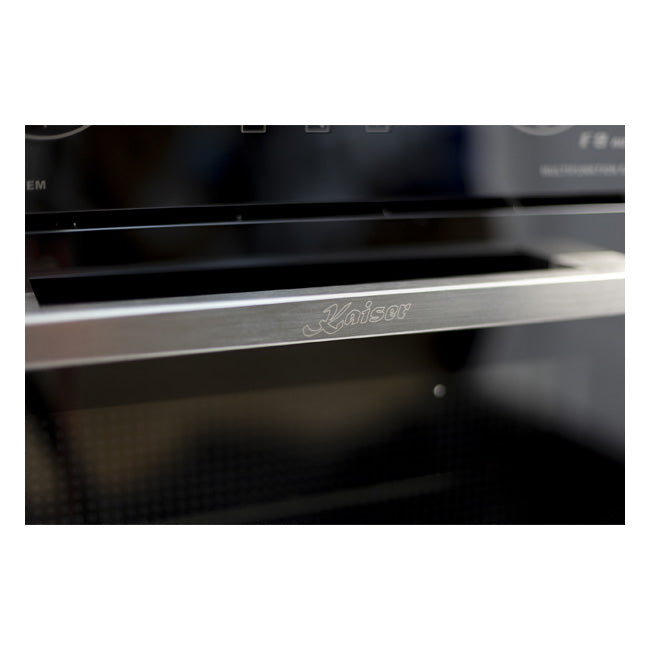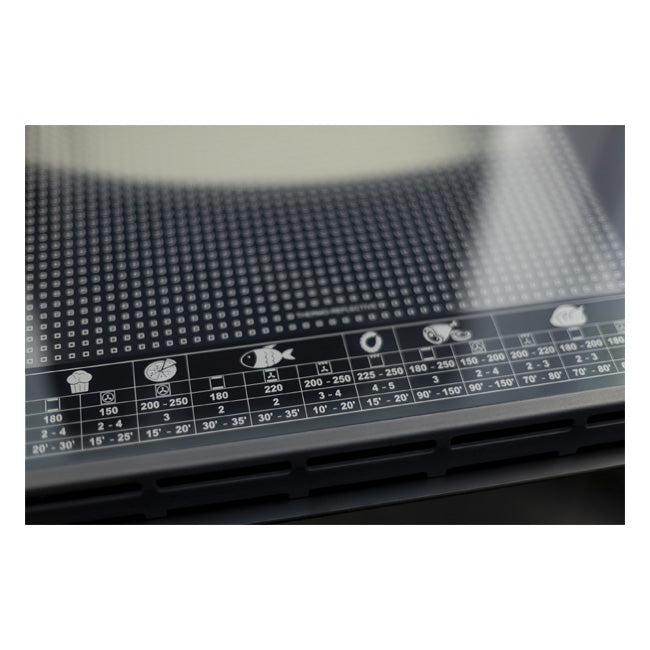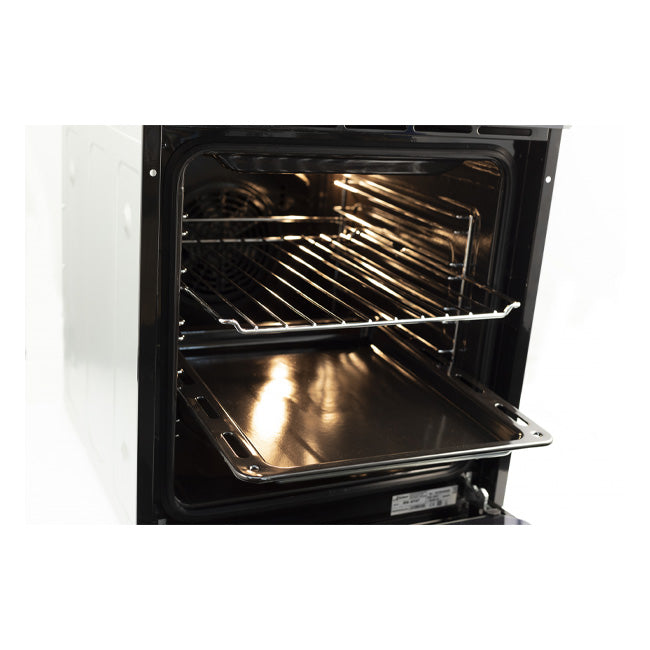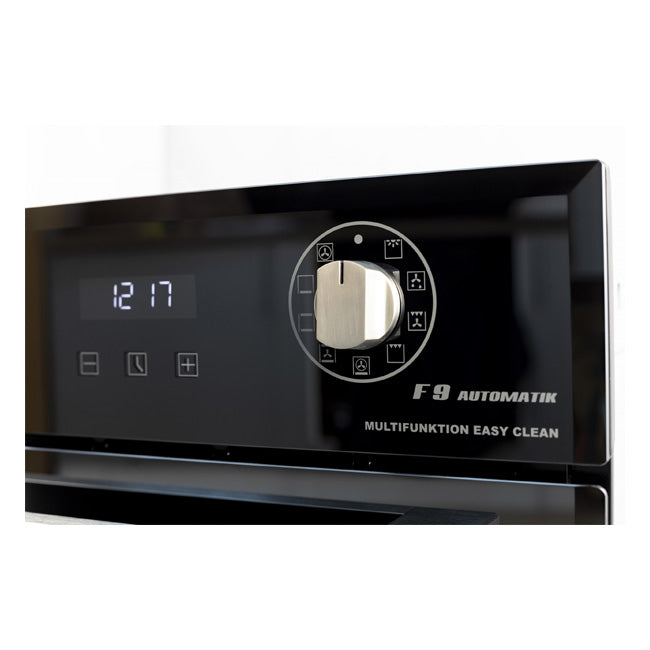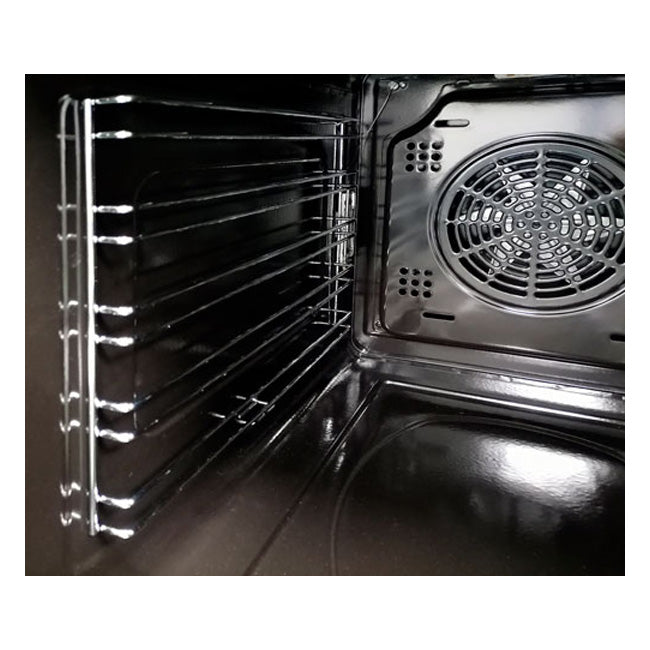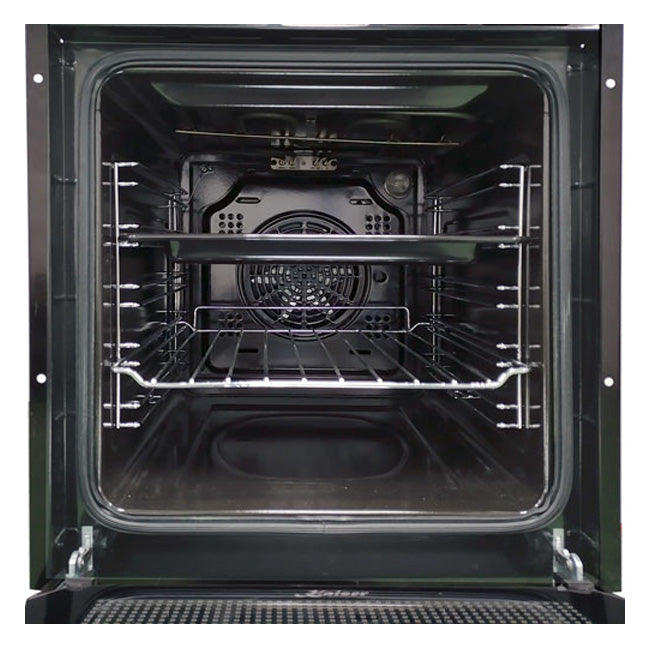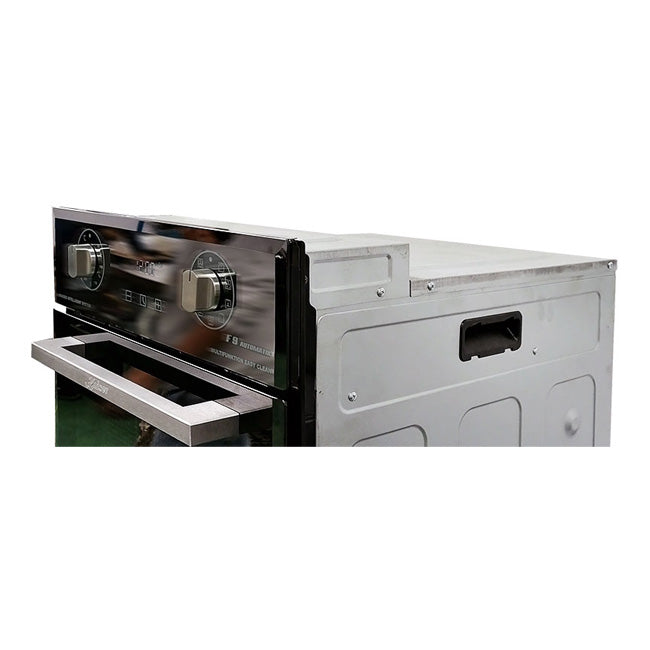 FREE SHIPPING

We offer a free delivery service on all appliances delivered in the UK.

30 DAY RETURNS

Hassle-free retuns if you are not 100% happy with your new appliance.

2 YEAR WARRANTY

Have complete peace of mind, with a 2 year warranty on all Kaiser appliances.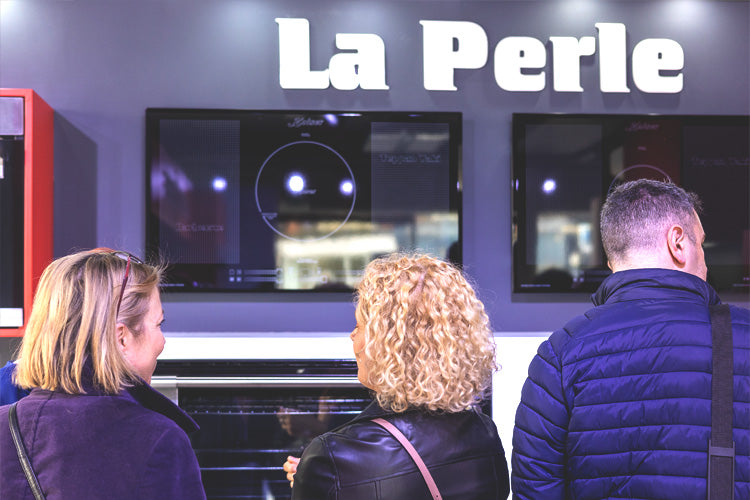 Virtual Showroom Appointments
Want to see our products live but can't make it to London? Book a free video call with our specialists.
We'll show you in detail any appliances you're interested in, answer any questions you may have, and provide expert advice and guidance.
Book Appointment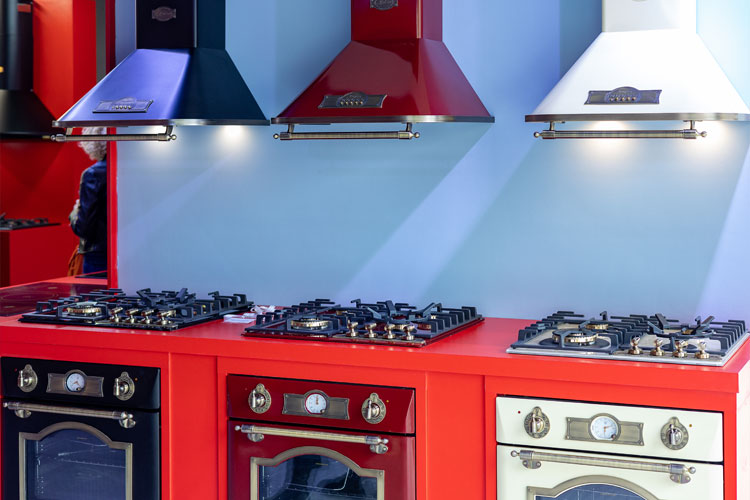 Save up to 13%
Supercharge Your Savings with Our Premium Kitchen Appliance Bundles! Upgrade your kitchen while saving up to 13% with our exclusive bundles. Whether you're eyeing a sleek combination of ovens, cooker hoods, hobs, dishwashers, and fridges from our thoughtfully crafted collections or want to curate your own set, we've got you covered. Unleash your inner chef and design the kitchen of your dreams while enjoying unbeatable discounts
Explore Bundles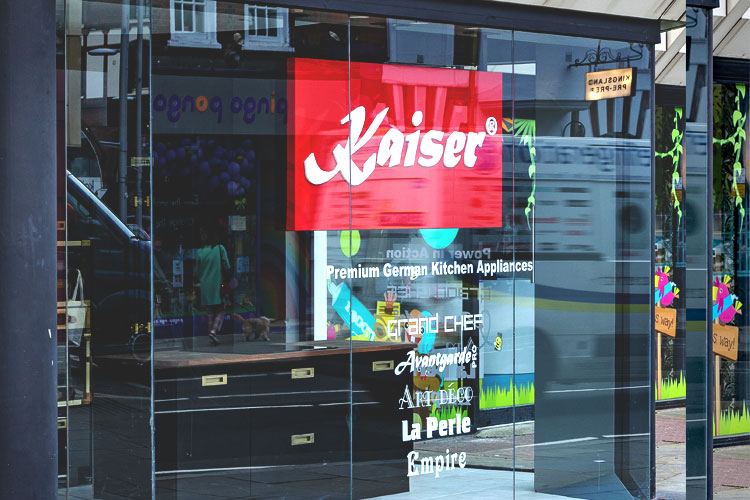 Visit Our London Showroom
We are happy to announce the opening of our new London Showroom, situated on Kings Road in Chelsea. Inside you will find an extensive collection, showcasing Kaiser's top appliances, spanning a massive selection of ranges, colours and designs.
Opening Times
German Design Award Winners